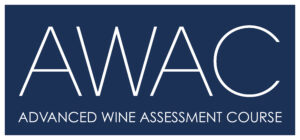 The Advanced Wine Assessment Course (AWAC) is an intensive four-day course designed for participants with considerable formal wine tasting experience. It aims to prepare potential new wine show judges and develop the sensory analysis capabilities and the vocabulary of Australian wine industry personnel at an elite level.
The AWAC course is presented under a four-day format, which includes approximately 40 hours of activities over the four days, and twelve leading wine show judges, journalists and winemakers who assist in the presentation of the course.

The aims of the course include:
Improving participants' sensory skills
Providing training in the techniques and practices of wine show judging
Improving participants' appreciation of world wine styles
Investigating and challenging the basis on which tasters make decisions on quality and preference
Assisting in the development and use of a standardised vocabulary
Providing statistical measurement of participants' performance, with respect to:

discrimination
stability
reliability
The AWRI also offers themed tasting courses. Visit the AWRI events calendar for a full listing of upcoming events.


2017 course dates
The next AWAC courses are:
| | |
| --- | --- |
| AWAC 44: | Monday 20 Nov – Thursday 23 Nov 2017 |
| AWAC 45: | May/June 2018 TBC |
All Advanced Wine Assessment Courses are held at the Australian Wine Research Institute, Adelaide, South Australia
Registration for the AWAC is a two part process:
Part 1:  Register for the Course Ballot
Subscribing to this list will automatically enter you into the ballot for any AWAC courses.
Part 2:  Complete the online application form detailing your experience
This information will support your application and must be completed as part of  the AWAC application process.
Course fees
$4,760 (AUD) including GST
Due to the extensive list of people interested in participating in the course, and if demand exceeds the number of available places, an allocation of places will be made using a ballot system. By registering yourself for the Advanced Wine Assessment course, you will automatically be entered into the ballot for any AWAC courses held. The AWRI does, however, reserve the right not to place applicants if it is considered they do not have sufficient formal wine tasting experience to enable them to participate fully in the course.
Contact details
Advanced Wine Assessment Course
The Australian Wine Research Institute
PO Box 197,Glen Osmond, SA, 5064, Australia.
Phone: (08) 8313 6600
Email: events@awri.com.au
Fax: (08) 8313 6601