In Australia, as around the world, retailers, restaurants and consumers are looking to buy or offer wines that meet modern sustainability standards. Australian wine producers are renowned for high standards of environmental care, social and economic impacts and Entwine provides a platform for them to substantiate their commitment to sustainability and continuous improvement.
Benchmarking reports
Every Entwine member receives a personalised annual benchmarking report that allows comparison of sustainability metrics with aggregated data from other members in their region or size category. The metrics focus on areas where growers and winemakers want to see improved efficiency and cost savings in their operations – predominantly water and energy use.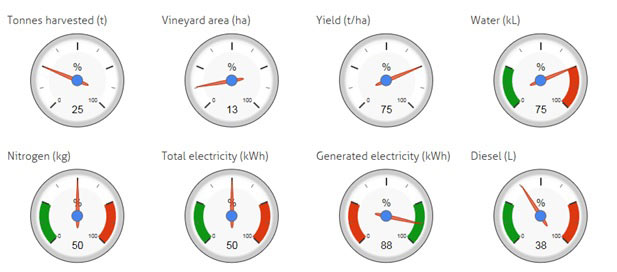 Example Entwine benchmarking report showing the member ranking for each resource indicator within the region or size category.
Regional reports
Each region with at least eight certified Entwine members can customise their own online regional report card. Regions can use this report to communicate their sustainability credentials.
Individual reports
Every certified Entwine member can customise their own optional, individual online report card, making their own information accessible to consumers and customers worldwide.