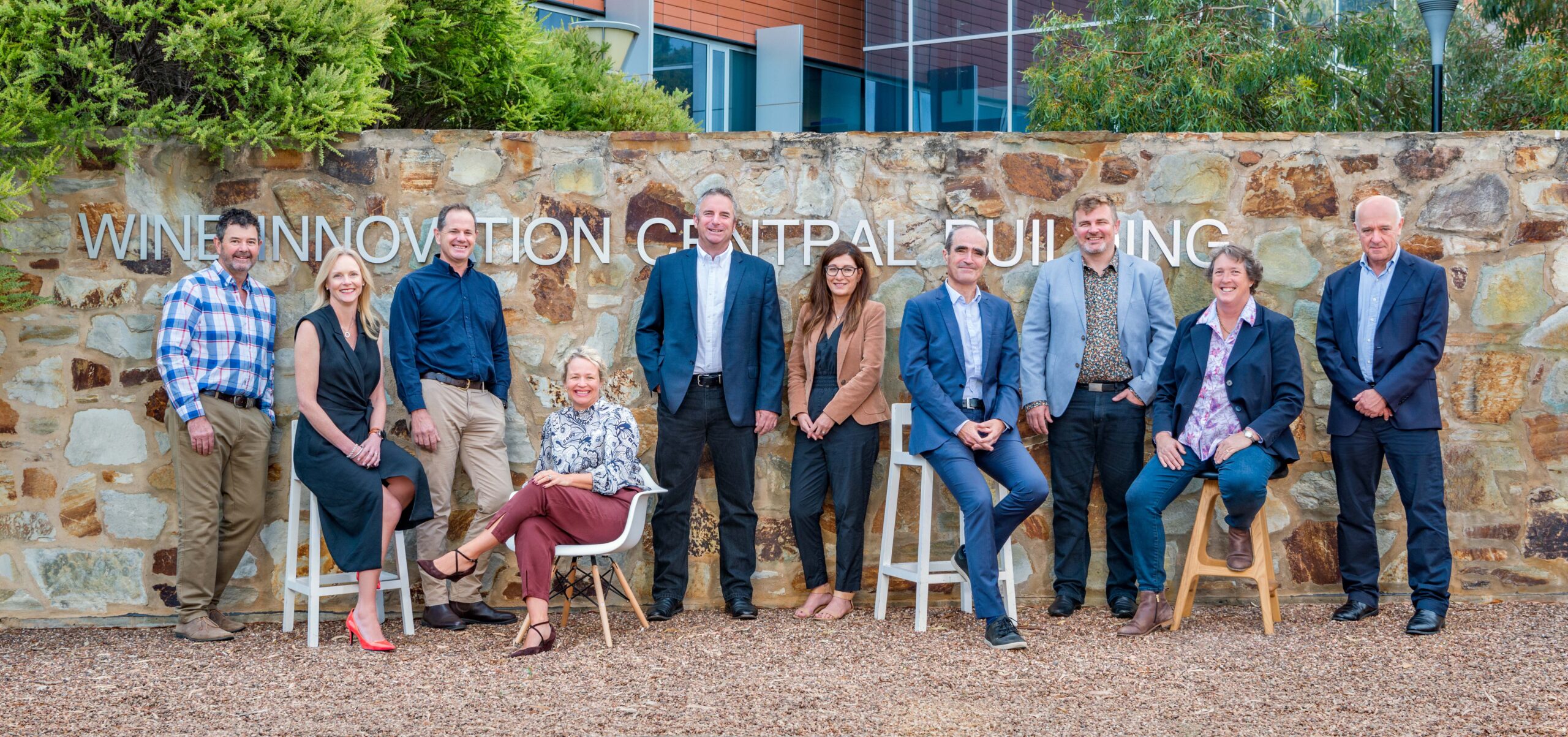 Left to right: Wayne Ellis, Sarah Courtney, Brett McClen, Corrina Wright, Mark Krstic, Trish Giannini, Kiaran Kirk (Chair), Andy Clarke (to August 2023), Liz Riley (to 31 October 2023), Nigel Sneyd. Absent: Trish Barry, Carolyn MacDonald, Damien Sheehan.
Kiaran Kirk AM FAHMS (Chair)
BSc (Hons), PhD, DPhil
Dean of the College of Science at the Australian National University (ANU); Chair of the Board, Clonakilla Wines (est. 1971). Previous positions: Director, ANU Research School of Biology (2009-2014); Head, ANU Department of Biochemistry and Molecular Biology (1996-2009); Research Fellow, University of Oxford (1989-1996). Kiaran has published over 160 research papers in the field of biochemistry and has more than 25 years' experience in the Australian research sector. Board member since 2017. Chair since 2023.
Trish Barry 
B Bus (Hons), GradCert Wine Mkt
An experienced communications professional with over 20 years of experience in the wine, tourism, hospitality, and financial service sectors. Trish is CEO and founder of Mastermind Consulting; a Wine Australia Future Leaders Alumni (2012); 2020 Wine Communicators of Australia Wine Communicator of the Year and Digital Communicator of the Year. Trish is actively involved in wine sector consulting to wine clients across Australia and New Zealand. She is a member of Wine Communicators of Australia, a Wine Australia Future Leaders Coach and an industry advisor to the Royal Agricultural Society NSW Sydney Wine Show. Board Member since November 2023.
Sarah Courtney
BE (Chem) (Hons), BCom (Finance), MWineTech, GAICD
Owner Fish Hook Wines, a small vineyard in the Tamar Valley. Sarah has served as a Minister the Tasmanian Government, holding a number of senior portfolios including Primary Industries and Water, and was Minister for Health during COVID-19. Sarah has also been Shareholder Minister for several State-owned businesses, including Tasmanian Irrigation, TasTAFE and Tourism Tasmania, delivering significant reform, governance improvements and major infrastructure projects. Prior to that Sarah was based in Sydney and worked for almost a decade in the financial services industry across equity analysis, institutional sales and quantitative analysis. Board member since 2022.
Wayne Ellis
BApplMgt
General Manager at Duxton Vineyards. Wayne is a highly experienced operations leader with a background in operational and supply chain management spanning 25 years. In his current role, Wayne is responsible for the safe and sustainable management of more than 2,400 hectares of wine-grapes in the Murray Darling region, as well as Duxton's 80,000 tonne winery (previously Stanley winery). Wayne brings extensive experience across a wide range of industry sectors including wine, project management, supply chain management and operational management in the electronics industry. Board member since 2023.
Trish Giannini
BEc, GradDipAcc, ICAA
Associate Director and CFO Advisor, Chapman Capital Partners. Trish is an experienced consultant, CFO and Chartered Accountant. She has more than 20 years' experience in corporate finance, advisory, agriculture, technology and mining, with a background in a Big Four accounting firm. Trish is involved in advising clients across all sectors, capital raising, business consulting, CFO advisory and buy/sell transactions. Board member since 2020.
Mark Krstic
BAgSci (Hons), PhD, MBA
Managing Director, The Australian Wine Research Institute, Chair of The Australian Wine Industry Technical Conference Inc., Professional Member of the Australian Society of Viticulture and Oenology, member of Hort Innovation's Table Grape Strategic Investment Advisory Panel, member of the National Viticulture Biosecurity Committee, Associate Editor of Wine & Viticulture Journal, Committee Member of the Wine Innovation Cluster Leadership Group and the Waite Strategic Leadership Group, Honorary Senior Fellow at the University of Melbourne. Graduate of the Australian Wine Industry Future Leaders Program. Mark has been instrumental in driving various initiatives in the Australian grape and wine research and development community over the last 8 years. Board member since 2020.
Carolyn MacDonald
BA (Journalism), GAICD
Chief Operating Officer at Walter and Eliza Hall Institute of Medical Research (WEHI). Carolyn is an experienced senior executive with more than 15 years of leadership experience across the medical research, broadcasting, and digital media industries. Carolyn is a board director (alternate) at Melbourne Genomics Health Alliance and is a Chapter Committee Member of AAMRI VIC (Australian Association of Medical Research Institutes). Board Member since November 2023.
Brett McClen
BAgSci (Hons), MBA
Chief Viticulturist Brown Family Wine Group. Professional member of ASVO. Brett has more than 20 years of viticultural and management experience across a range of Australian wine regions, as well as experience working with other irrigated horticultural crops. He previously spent two terms as a Director of the ASVO and was a finalist in the 2019 ASVO Viticulturist of the Year award. Board member since 2021.
Damien Sheehan
B.AppSc (Viticulture)
General Manager and Viticulturist for Mount Langi Ghiran winery in the Grampians region, Victoria. Current chair of the Grampians Wine Association, a previous chair of Wine Victoria and currently a member of the Technical Sub-committee of Wine Victoria. Over 30 years of experience in viticulture and actively involved in both regional and state associations over that time. Appointed to the Victorian Wine Ministerial Advisory Committee (2015-2019). Board member since November 2023.
Nigel Sneyd
BAppSc (Wine Science), DON (Oenologie), MBA, MW
Global Director of Wine and Quality for Accolade Wines. Nigel is a Master of Wine (MW) with more than 40 years of experience in the wine industry both in Australia and internationally. In previous roles Nigel has worked for the Australian Wine Research Institute and several diverse wine industry companies in France. Most recently he has enjoyed a 15-year career at E. & J. Gallo, based in California, where he was exposed to winemaking in Italy, Spain, Germany, South Africa, California, Argentina and New Zealand. Nigel has delivered major cross-functional projects in large-scale and boutique-scale wine production in diverse cultural settings. Board member since 2021.
Corrina Wright
BCom, BAgSc (Oen)
Owner and winemaker for family business Oliver's Taranga Vineyards in McLaren Vale, the sixth generation to farm the same land. Corrina also owns craft beer business Swell Brewing Co and a 40-acre vineyard in McLaren Vale. Corrina has sat on a number of industry boards (including Australian Women in Wine Awards, Winemakers' Federation of Australia, McLaren Vale Grape, Wine & Tourism Association) and is active in the wine judging, writing and community spaces. She was awarded the 2019 ASVO Winemaker of the Year. Corrina is passionate about bringing cultural change and diversity to our wine community. Board member since 2021.