Welcome to 'AWRI decanted' – a podcast from the Australian Wine Research Institute. Meet the scientists working behind the scenes for the Australian wine industry, hear about their latest discoveries and how they are being adopted by Australia's grapegrowers and winemakers. The second series (eight episodes, released fortnightly) shares some of the latest viticultural research from across Australia and stories from the growers who are applying it.
Subscribe now via your favourite podcast app or listen to individual episodes listed below.
AWRI DECANTED – SERIES 2 APPLYING VITICULTURAL RESEARCH IN THE VINEYARD
AWRI DECANTED – SERIES 1 WINE FLAVOUR
Title
Speaker
Date
Additional resources
Understanding regional flavours in Australian Shiraz
Dr Wes Pearson
14 September 2021
Understanding regionality in Shiraz (AWITC presentation recording)

Shiraz terroir – linking regional sensory characters to chemical and climate profiles (industry article)

Why are winemakers throwing away flavour?
Dr Mango Parker
28 September 2021
Boosting floral aroma of wine with flavourless grape extracts (industry article)
Eucalyptus flavour in wine
Dr Leigh Francis
12 October 2021
Eucalyptus character in wine (fact sheet)
Pepper flavour in wine– what's going on in the vineyard?
Sheridan Barter
26 October 2021
Pepper flavour in wine (fact sheet)

Mapping the origins of high rotundone and pepper flavour in wine (industry article)

Stone fruit flavour in white wine
Dr Tracey Siebert
9 November 2021
Why does this wine smell like apricots? (webinar recording)
Oxygen – breathing life into red wine flavour
Dr Simon Schmidt
23 November 2021
Aeration of red ferments gets the thumbs up on wine quality (Wine Australia news article)
Why I add oxygen to my red ferments

Matt Zadow
(Yalumba's Oxford Landing Winery – Operational Winemaker)
7 December 2021
Delivering oxygen to ferments (fact sheet)
The AWRI Decanted podcast is supported by Wine Australia, with levies from Australia's grapegrowers and winemakers and matching funds from the Australian Government. The AWRI is a member of the Wine Innovation Cluster in Adelaide, SA.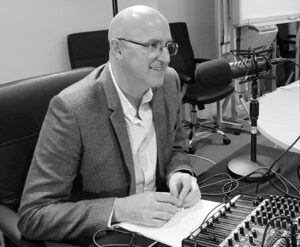 AWRI Decanted is hosted by Drew Radford, from PodTalk. Drew is an accomplished reporter and broadcaster who has worked for Triple J, ABC News & Current Affairs and ABC Local Radio in the roles of journalist, Executive Producer and Director of ABC South Australia. Drew is a published author and documentary maker.