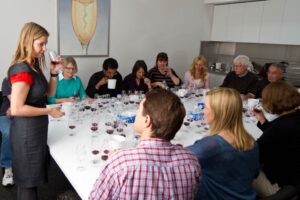 The Australian Wine Research Institute (AWRI), located on the Waite campus in Urrbrae, is looking for people interested in wine tasting to join its sensory evaluation panel. Sensory panellists provide detailed descriptions of wines and play a fundamental role in research projects that contribute to the Australian wine industry.
No special wine-tasting expertise is required as all training will be provided in wine evaluation for the selected applicants. Progression to the panel will depend on performance in a series of sensory aptitude tests which will be conducted at the AWRI.
Ideally, applicants would:
Be over 18 years of age.
Have basic computer skills.
Have good verbal communication skills.
Be in good general health.
Have no allergies related to wines.
These positions are offered on a casual basis. Currently, panellists are required to be available Tuesday through Thursday from 10:00 am-12:00 pm, but other times/days may be available.
Successful candidates will be contacted prior to a study commencing (via email) and asked if they are available to participate for the duration of the project, usually blocks of two to four weeks. There will be periods where no tastings occur and others when a greater number of hours may be required.
Panel work will include group tastings and discussions, individual independent assessments in tasting booths, rating intensities of specific attributes, as well as some aroma only work. In all studies, wine will be expectorated (spat out), so elevated blood alcohol levels should not be a concern.
A position description is available here or for more information contact the Sensory Team at Sensory.Panel@awri.com.au.
Applications should be completed via the online questionnaire by the 1st of March 2021.
Only applications that are completed via the online application form will be considered.