Library service
Project summary
The John Fornachon Memorial Library holds the largest knowledge base of grape and wine technical resources in the southern hemisphere. The library continues to support the Australian grape and wine sector through strategic sourcing, management and dissemination of relevant and useful electronic and print resources covering 'vines to wines'. More than 82,940 items (including books, journals, article reprints, conference proceedings, reports, theses, standards and legislation, as well as a reference collection of directories, foreign dictionaries and atlases) are available to levy payers, industry organisations, students and AWRI staff. Members of the Australian grape and wine industry can search the library catalogue online via the AWRI website.
Latest information
eBook collection
While traditional print resources remain popular, the recent introduction of an eBook platform has seen a shift towards accessing books digitally. eBooks can be read on mobile devices or downloaded for offline use. The collection is currently 70 titles strong, steadily growing and easy to use. Planning is under way to launch a second eBook platform to expand the number of titles available.
Staff publications database
The AWRI staff publications database contains over 1,800 citations of publications authored by AWRI staff. This useful tool, accessible from the AWRI website, received more than 7,598 hits this year with 828 staff publications requested. This database is updated regularly to ensure the latest publications are available.
Online information packs
Online information packs are collections of relevant references and other resources focused on a single topic. They have been developed to help users easily locate information on common topics in areas of oenology, viticulture, sustainability and wine and health. The website received more than 1,900 hits on information packs and the library delivered over 619 journal articles from information packs, an increase of 70% from 2014/2015.
Library reference and information requests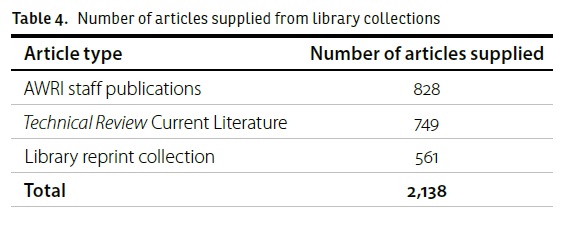 The library responded to more than 1,500 reference and information requests and delivered 2,138 articles. Over 80% of the requests were completed within one business day. Table 4 outlines the types of articles requested.
Specialised information services
The library has access to a range of databases and external resources, and offers specialised information services such as literature searches for in-depth retrieval of information. Forty-four literature searches were conducted in 2015/2016 on topics including consumer studies, marketing, winemaking chemistry, winery operations and wine storage.

Project Team
Con Simos
Linda Bevin
Anne Lord
Find out more