The overcast and cool conditions experienced across much of south-eastern Australia this season have elevated the disease risk from powdery mildew. This is a timely reminder to ensure you are following regional crop watch reports and taking note of any warning systems that service your region. Regular monitoring is the only way to know how well your spray program and cultural practices are working at suppressing disease.
Note that wet conditions will also favour the development of weather-driven pathogens such as downy mildew and botrytis.
Recommended actions:
Monitor your vines and the weather and act early if conditions favour disease.
Unfavourable conditions (wet or windy) can make vineyard access problematic. Schedule shorter spray intervals where possible.
Make sure you're hitting the target with the right chemical dose applied before infection takes hold. Low water rates might be ok when disease pressure is low but in unfavourable conditions, good coverage is essential.
In wet seasons, grapevine canopies can be vigorous. Extra effort is needed to open canopies for improved spray penetration and increased airflow.
Monitoring for powdery mildew should be focused on previously infected areas, shaded or dense parts of vine canopies, and sheltered vineyard sites, particularly in humid and overcast weather. Conditions that are mild (20-30°C) and cloudy, coupled with low to moderate light, favour disease spread.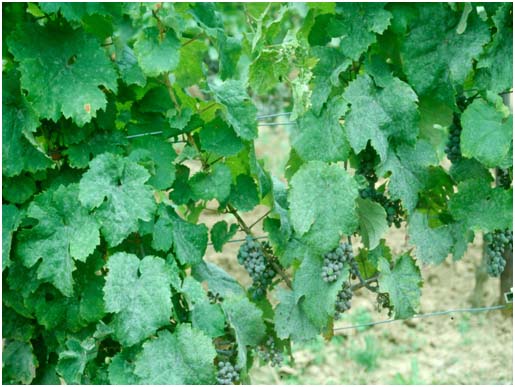 Grapevine showing typical powdery mildew symptoms,- powdery ash-grey spores on leaves, berries and bunch stalks.
In the right conditions, powdery mildew can produce a new generation in 5-12 days. The infection cycle should be controlled as quickly as possible. This requires good spray penetration into the canopy and rotation of chemical groups to reduce the risk of resistance.
Follow this link to Q&A on powdery mildew.
This season, evidence of downy mildew has been found in South Australia and Victoria. Weather driven, this disease needs moisture and warm conditions. Temperature, rainfall, relative humidity and leaf wetness are all indicators of risk for this disease.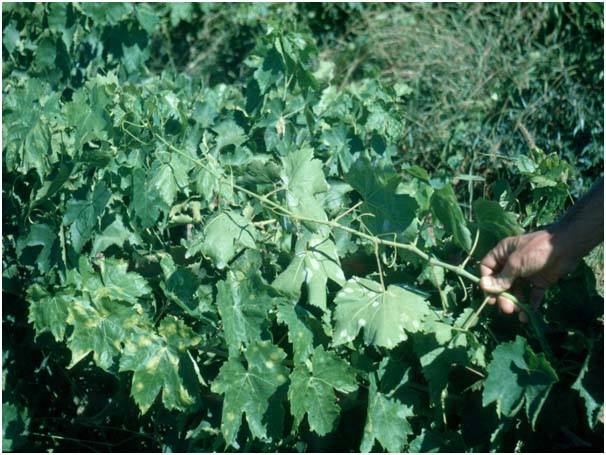 Downy mildew oil spot and down like symptoms on grapevine shoots.
Cultural practices that open the canopy and promote leaf drying reduce disease risk. Spray programs that prevent infection of leaves and bunches need to be applied with good coverage and before the infection event. Post infection fungicides are best applied soon after an infection and before oil spots appear.
Follow this link to Q&A on downy mildew.
Vineyards affected by hail or frost will be at increased risk of botrytis infection to damaged tissue. Botrytis can also be a problem when wet weather occurs late in the season. Canopies should be managed to promote airflow and thus reduce the chance of spore germination. Flowering and pre-bunch closure sprays are recommended in susceptible vineyards. Minimising damage to bunches caused by insect pests, careful wire lifting and a well-spread bunch zone can also reduce botrytis levels at harvest.
Follow this link to Q&A on botrytis.
Further assistanceThe AWRI offers a free and confidential help desk service on technical issues, to all Australian grapegrowers and wine producers. Should you require further assistance, please call the AWRI's help desk on 08 8313 6600 or email: viticulture@awri.com.au.