The quercetin question for young reds?
Preventing powdery mildew – new option
Wine diversity and complexity through developed yeasts
Good Manufacturing Practice code updated
Benchmarking vineyard greenhouse gas
Portal to unlock grape phenolic potential
Consumer communication tool for Chardonnay?
Attend an AWRI seminar without leaving your office!
Conference explores wine and health relationships
Simple steps: order articles featured in Technical Review
Viticulture book wins international prize
The quercetin question for young reds?
The AWRI's Winemaking Services team has received recently many samples of red wine bottled early, or bottled within four months of harvest showing quercetin deposits. The deposit is also appearing in a few 2009 red wines. If you have never encountered quercetin deposits before, it could be quite a shock as they appear almost as clumps of yellow-green mould-like material in the bottom of your bottle or wine glass.
Quercetin dihydrate is one of the flavonol compounds which are natural components of grape skins and leaves. Flavonol deposits in wine have been relatively rare, but some modern viticultural practices such as increased sun exposure of fruit, machine harvesting and amount of leaf matter in grape harvests can contribute to elevated levels of these compounds in wine (Ziemelis 1982). Sangiovese seems particularly susceptible to these deposits.
Quercetin glycosides are extracted from the grape skins during fermentation. The quercetin glycosides then hydrolyse in the acidic wine conditions to release the free quercetin. The quercetin may then crystallise, incorporating some water molecules in the process and form a deposit, which precipitates out of the wine and usually ends up in the wine lees. You would never usually notice it. What happens though, if you bottle early, say within four months or so of production, is that the quercetin can remain soluble, the wine can even be sterile filtered, but then can precipitate later in bottle. The deposit looks like mould but is actually crystalline material, looking like this under the microscope: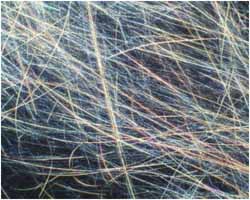 Unfortunately we do not know of any predictive tests. Once precipitated, the wine can be refiltered to remove the crystals.
Preventing powdery mildew – new option
A new active constituent has been registered in Australia for the control of powdery mildew in grapes. Proquinazid is the same activity group (Group 13) as quinoxyfen but has a much shorter withholding period.
The restriction on use for Talendo for domestic and export wine is 'Use no later than 28 days before harvest'. The electronic version of the 'dogbook' has been updated here. This product is a protectant and will not control existing powdery mildew infections (i.e. between infection and the visible stage). DuPont Australia Ltd or your chemical on-seller will provide more details.
For further information contact Marcel Essling.
Wine diversity and complexity through developed yeasts
Gaining greater control over flavour diversity and complexity of your wine has been made easier through the AWRI's yeast breeding program. The AWRI has successfully developed non-GM commercial interspecific hybrid yeast strains capable of generating a far wider range of yeast flavour and aroma metabolites than typically observed for the predominant wine yeast, Saccharomyces cerevisiae.
Two of these hybrids have been commercialised previously by AB Mauri Yeast Australia: AWRI 1503 (S. cerevisiae x Saccharomyces kudriavzevii) and AWRI Fusion (S. cerevisiae x Saccharomyces cariocanus). Successful industrial trials on a third hybrid yeast, AWRI 1505 (S. cerevisiae x Saccharomyces bayanus) has led to the planned manufacture of an active dry yeast of this hybrid strain (re-named 'AWRI Cerebay') in time for the 2013 Australian vintage. Please contact Jenny Bellon to learn more about how these novel hybrids can be used to differentiate your wine from others in the marketplace.
Good Manufacturing Practice code updated
The AWRI has completed the revision of the Code of Good Manufacturing Practice for the Australian grape and wine sector, together with a small group of winemakers selected from the Wine Industry Technical Advisory Committee. The revised and expanded, 21-page second edition of the Code is available electronically on the AWRI website.
Benchmarking vineyard greenhouse gas
The three major greenhouse gases produced by agricultural activities are carbon dioxide (CO2), nitrous oxide (N2O), and methane (CH4), which are absorbed and emitted from plants and soils as a result of plant and microbial metabolic activities and management practices. Reducing the potent N2O emissions from vineyard activities is the focus of a DAFF 'Action on the Ground' funded project led by AWRI's Mardi Longbottom.
This project will enable measurement of the nitrous oxide emissions from a range of vineyard scenarios taking into consideration factors such as soil type, fertiliser practices, ground cover and soil moisture. Five grapegrowing regions will be included in the study to cover a broad range of conditions. The aim of this work is to establish baseline N2O emissions levels and identify and recommend those practices which have the potential to reduce production of this potent greenhouse gas.
For further information contact Mardi Longbottom.
Portal to unlock grape phenolic potential
Colour, tannin and phenolic levels in red grapes are all indicators of quality. A number of small-scale vineyard trials, conducted by the AWRI's Tasmania Node, have highlighted the impact that soil type, clone, rootstock selection and weather patterns can have on colour, tannin and phenolics in red grapes during ripening. A sound knowledge of these aspects could be used to spread the harvest over a more extended period and to target a particular maturation window and phenolic profile in the grapes.
One particular study was carried out to determine the influence of five clones and four rootstock types on Pinot Noir maturation at a site in the Coal River Valley, Tasmania, in 2009 and 2010. Results showed that the choice of both clone and rootstock was important for colour (anthocyanins) and tannin development in the grapes. The clone type had a more significant effect than rootstock on the rate of ripening and resultant phenolics within a particular vintage. The impact of rootstock selection varied with the vintage.
Figure 1: the effect of five different clone types and four rootstocks on ripening during 2009 and 2010.
Analysis of the grape homogenates was carried out using a brand new rapid method involving UV-Vis measurement and application of complex algorithms to determine the level of anthocyanins, phenolics and tannins in the grapes.
The AWRI is currently developing a web-based tool (the Grape Portal) that will provide opportunities for these attributes to be closely monitored and analysed during ripening. It will also allow users to track and securely store standard grape maturity measures such as pH, TA and Brix. This will help to ensure that effective and informed decisions can be made on harvesting time and logistics associated with winery processing operations.
The Grape Portal will be the second module made available to producers through a web-based interface. This follows the success of the Tannin (Wine) Portal, launched in 2010, which allows wine producers to measure the level of tannins, phenolics and colour (pigments) in their red ferments and finished wines. Both tools are supported by simple and rapid analysis methods, carried out at the winery, which provide valuable process data and allow winemakers to make informed decisions to achieve enhanced structure and mouth-feel in their wines.
Users of the Tannin Portal have benefitted from the extensive database of wines which has been built up (currently over 10,000 samples), allowing them to benchmark the attributes of their wines against others by a combination of vintage, variety and region. The Grape Portal will include this important function, as well as additional graphical tools that will allow simple generation of grape maturity trends and attribute profile charts. Further information can be obtained from Neil Scrimgeour.
Consumer communication tool for Chardonnay?
Following the success of the Pinot G Style Spectrum, which was developed as a label device to communicate wine style to consumers, the concept has been extended to Chardonnay. The AWRI is developing a simple way of translating the complex attributes of Chardonnay wine into a single linear scale that can be used to classify its style and inform consumer expectations.
A tasting was conducted with representatives from Treasury Wine Estates, Yalumba and Premium Wine Brands using a set of 20 commercial Chardonnay wines. A further evaluation of twelve of those wines was made using the AWRI's trained sensory panel and all the wines were subjected to chemical and spectral analysis. The spectral information has been used to define a fingerprint of the compositional variables in Chardonnay which is then converted into a simple rating which correlates with the sensory characteristics of the wines.
Analysis of the resulting data confirms that Chardonnay wine style could realistically be rated and communicated via a similar labelling device to the Pinot G Style Spectrum, allowing consumers to select their Chardonnay wine based on their preferred style.
The Pinot G Style Spectrum was developed as a way of engaging with and informing consumers on the style of wine they can expect when they open a bottle. The Spectrum label device informs consumers of the expected style of the wine in the bottle at point of sale and was developed in response to industry demand from producers who were concerned that the two names being used for the same grape variety was causing confusion in the marketplace.
Figure 2: The Pinot G Style Spectrum used to classify wine style from Crisp to Luscious.
A preliminary market assessment has indicated that there is interest from producers for the Pinot G Style Spectrum technology to be extended to Chardonnay wines. The AWRI is seeking industry support for further development and refinement of this tool and a commitment to use it, once developed, for marketing purposes.
Those interested should contact Dr Eric Wilkes, Commercial Services Manager either by email or by telephone on (08) 8313 6600.
Attend an AWRI seminar without leaving your office!
The AWRI's annual webinar program has kicked off. With 15 webinars on topics as diverse as winemaking at low pH, phosphorous acid, protein haze and cold stabilisation, the presentations are tailored to meet a wide range of industry needs and interests.
This year we have invited industry guests to present, and are pleased to announce that Tony Battaglene (WFA), Steve Guy (Wine Australia) and Lawrie Stanford (WGGA) have joined the program. There is no fee to attend an AWRI webinar, but registration is essential. Click here to register and view the program in full.
Conference explores wine and health relationships
Twenty years after the term the 'French Paradox' was coined, scientific studies continue to explore the complex relationship between the consumption of wine and health. This relationship has been the focus of a long standing series of international scientific meetings from 1996 to 2010 in Italy, USA, Chile, South Africa and France. The next in this series of meetings, WineHealth 2013, is to be held in Sydney, Australia from 18-21 July 2013 at the Sydney Exhibition and Convention Centre immediately following the AWITC.
This WineHealth 2013 Conference gathers world experts for a stimulating exchange of scientific information and ideas on the impacts of wine consumption on human health, and to explore the effect of wine as a unique alcoholic beverage.
The Conference also aims to provide deeper insight into the biological mechanisms involved in any beneficial effects of wine on health, and how specific molecules present in grapes and wine have biological activities that may be harnessed for health. Sociological outcomes of the use and abuse of wine, and hence public health priorities will also be presented for debate and discussion.
It is envisaged that these exchanges will contribute to the evidence base for public policy setting, provide direction for new research efforts into the health effects of wine, and offer opportunities for international collaborations. Delegates will be drawn from the dietician, nutrition and medical fraternities, from public health, as well as from industry and research.
The WineHealth 2013 conference program commences on the Thursday afternoon, immediately following the conclusion of the Australian Wine Industry Technical Conference, and then concludes on the Saturday evening, with a networking event planned for the Sunday.
For further information about WineHealth 2013, please visit the website or contact Creina Stockley or Kate Beames.
Simple steps: order articles featured in Technical Review
The AWRI's Technical Review summarises papers and articles recently published of interest to grape and wine producers. Have you browsed through the Current Literature section of Technical Review before and found articles of interest, but thought it was too hard to obtain a copy of the full paper? The AWRI has now made it even easier for you!
Each issue of Technical Review can be downloaded from The Australian Wine Research Institute website. A simple online ordering system has recently been added to the website to allow producers to request articles listed in Technical Review's 'Current Literature' and 'AWRI Publications'.
To order an article – access the current issue of Technical Review via the following link : https://www.awri.com.au/information_services/technical_review/current-edition/.
To view the content in each section click on the triangle next to each heading.
Click on the title of an article to access the details and abstract.
To order click on add to cart.
You can scroll through the articles in each section by clicking on the arrows located on the bottom left hand corner.
Click on view cart to place your order or return to the current issue by clicking on the button on the bottom right hand corner to continue reading.
Articles from previous issues of Technical Review can be searched and ordered via the following link : https://www.awri.com.au/information_services/technical_review/cl/. If you need further assistance, contact Anne or Michael from the AWRI's Information Services team via email.
Viticulture book wins international prize
The book 'The Grapevine: from the science to the practice of growing vines for wine' has received international recognition by winning an Organisation Internationale de la Vigne et du Vin (OIV) prize in the viticulture section of the OIV 2012 book awards. The book is written by four of Australia's leading viticulture scientists — Dr Patrick Iland, the AWRI's Dr Peter Dry, Dr Tony Proffitt and Professor Steve Tyerman.
Each year, the OIV awards prizes to books that have made a significant contribution to the knowledge of a particular discipline and that are judged to be the best books published in each discipline for that year. 'The Grapevine: from the science to the practice of growing vines for wine' was judged as providing a comprehensive review of the literature and its application to the practice of viticulture.
The authors provide an up-to-date, thoughtful, comprehensive and interesting account of the scientific principles relating to the practice of viticulture. The book is of interest to a wide range of people including scientists, students and practitioners and to anyone involved in viticulture and winemaking as, while it focuses on theory, it also contains practical aspects of growing vines for wine.
Further information about the book can be found on the publisher's website.
Recent literature
John Fornachon Memorial Library at the AWRI delivers journal articles and loans books to Australian grapegrowers and winemakers. Books can be searched and requested via the Library catalogue – or you can email the AWRI with your request. A list of recent AWRI publications follows.
To order AWRI staff publications and articles from Technical Review please contact the Library
Articles and books on specific topics can be searched for and ordered via the Library Catalogue
To request a Literature search on a specific topic contact the Library via email or telephone (08) 8313 6600.
Recent AWRI staff publications
Bindon, K.A., Smith, P.A. Comparison of the affinity and selectivity of insoluble fibres and commercial proteins for wine proanthocyanidins Food Chemistry http://dx.doi.org/10.1016/j.foodchem.2012.08.016: 1-42; 2012.
Bindon, K.A., Bacic, A., Kennedy, J.A. Tissue-specific and developmental modification of grape cell walls influences the adsorption of proanthocyanidins. Journal of Agricultural and Food Chemistry DOI: 10.1021/jf301552t: 1-45; 2012.
Callegari S., Gregory P.A., Sykes M.J., Bellon J.R, Andrews S., McKinnon R.A, de Barros Lopes MA. Polymorphisms in the mitochondrial ribosome recycling factor EF-G2mt/MEF2 compromise cell respiratory function and increase Atorvastatin toxicity. PLoS Genetics 8 (6): 1-12; 2012.
Capone, D.L., Sefton, M.A., Jeffery, D.W. Analytical investigations of wine odorant 3-Mercaptohexan-1-ol and its precursors. Qian, M.C., Shellhammer, T.H. (Editors) Flavor chemistry of wine and other alcoholic beverages.: ACS Symposium Series 1104: 15-35; 2012.
Capone, D.L., Francis, I.L., Herderich, M.J., Johnson, D.L. Managing eucalyptus aromas. Wine & Viticulture Journal 27 (4): 22-27; 2012.
Carew, A., Smith, P., Dambergs, B. Yeast selection impacts phenolics in Pinot Noir. Australian & New Zealand Grapegrower & Winemaker (581): 70-72; 2012.
Cox, C.M., Favero, A.C., Dry, P.R., McCarthy, M.G., Collins, C. Rootstock effects on primary bud necrosis, bud fertility, and carbohydrate storage in shiraz. American Journal Enology and Viticulture 63 (2) : 277-283 ; 2012.
Cozzolino, D., Curtin, C. The use of attenuated total reflectance as tool to monitor the time course of fermentation in wild ferments. Food Control, 26 (2), 241-246; 2012.
Dry, P. Petit Manseng. Wine & Viticulture Journal 27 (3): p. 63; 2012.
Dry, P. Negro Amaro. Wine & Viticulture Journal 27 (4): p. 65; 2012.
Essling, M. Assessing sun-smart protection. Australian & New Zealand Grapegrower & Winemaker (581): 36-37; 2012.
Henschke, P.A., Varela, C., Schmidt, S., Siebert, T., Kalouchova, R., Curtin, C.D., Francis, I.L., Torrea, D., Ancin-Azpilicueta, C., Vilanova, M., Ugliano, M. Albarino – Chardonnay: Modulating wine style with DAP. Practical Winery & Vineyard 33 (3): 14-22; 2012.
Herderich, M.J., Siebert, T.E., Parker, M., Capone, D.L., Jeffery, D.W., Osidacz, P., Francis, I.L. Spice up your life: analysis of key aroma compounds in Shiraz. Qian, M.C., Shellhammer, T.H. (Editors) Flavor chemistry of wine and other alcoholic beverages.: ACS Symposium Series 1104: 3-13; 2012.
Herderich, M.J., Curtin, C., Hayasaka, Y., Mercurio, M. Metabolomics and the quest for understanding wine quality. Oeno2011- Actes de colloques du 9e symposium international d'oenologie de Bordeaux, Dunod, Paris, 609-614; 2012.
Holdstock, M. Constant observation key to avoiding dilemma of stuck ferments. Australian & New Zealand Grapegrower & Winemaker (582): 66-67; 2012.
Krstic, M. Precision management technologies prove their value in selective harvesting in Australia's major production regions. Wine & Viticulture Journal 27 (4): 34-36; 2012.
Muhlack, R. Reduce vintage costs and improve process control with new ferment simulation tool. Australian & New Zealand Grapegrower & Winemaker (582): 62-65; 2012.
Rojas, I.B., Smith, P.A., Bartowsky, E.J. Influence of yeasts on volatile fermentation-derived compounds, colour and phenolics composition in Cabernet Sauvignon wine. World Journal of Microbiology and Biotechnology DOI 10.1007/s11274-012-1142-y: 1-11; 2012.
Tran, T.M.T., Stanley, G.A., Chambers, P.J., Schmidt, S.A. A rapid, high-throughput method for quantitative determination of ethanol tolerance in Saccharomyces cerevisiae. Annals of Microbiology DOI: 10.1007/s13213-012-0518-4: 1-; 2012.
Ugliano, M., Dieval, J-B. , Siebert, T.E., Kwiatkowski, M., Aagaard, O., Vidal, S., Waters, E.J. Oxygen consumption and development of volatile sulphur compounds during bottle aging of two shiraz wines. Influence of pre- and postbottling controlled oxygen exposure. Journal of Agricultural and Food Chemistry DOI:10.1021/jf3014348: 1-10; 2012.
Varela, C., Kutyna, D.R. Solomon, M., Black, C.A., Borneman, A., Henschke, P.A., Pretorius, I.S., Chambers, P.J. Evaluation of gene modification strategies to develop low-alcohol wine yeasts. Applied and Environmental Microbiology doi:10.1128/AEM.01279-12: 1-38; 2012.
Disclaimer: The material contained in this publication is comment of a general nature only and is not and nor is it intended to be advice on any specific technical or professional matter. In that the effectiveness or accuracy of any technical or professional advice depends upon the particular circumstances of each case, neither the AWRI nor any individual author accepts any responsibility whatsoever for any acts or omissions resulting from reliance upon the content of any articles. Before acting on the basis of any material contained in this publication, we recommend that you consult appropriate technical/professional advisers.