Some float, some sink and some can cause a real stink
Growing grapes and greenhouse gas
A sparkling event not to be missed
You can teach an old dog new tricks!
Hunter node kick-starts local projects and trials
Prickly production of Pinot uncovered
AWRI commercial labs continue quality certification
AWRI webinars deliver beyond expectations
Smart way to access the AWRI website
Some float, some sink and some can cause a real stink
what the deposit consists of is the first step in remediating the problem. What is the first thing to do if you have a wine deposit? There are two things essentially: try and identify it yourself or send it to the AWRI's Winemaking and Extension Services team to identify. In the past 12 months, the AWRI has identified 77 deposits isolated from wine, ranging from crystalline deposits due to inadequate cold stabilisation or from excessive calcium levels in wine, to the odd and not so common deposits such as quercetin dihydrate, grapeseed oil and filtration media. In most instances, hazes and deposits can be simply identified if you have a microscope and possibly a little help from the wine instabilities section of the AWRI website, or alternatively call the AWRI's Winemaking and Extension Services team on 08 8313 6600 for assistance.
Growing grapes and greenhouse gas
Australian grapegrowers are a step closer to knowing exactly how much greenhouse gas is generated from growing grapes.
The AWRI's viticulture team has been busy preparing vineyard trials to measure greenhouse gas emissions from five winegrape growing regions. Static chambers have been installed in vineyards at McLaren Vale, Eden Valley, Margaret River, Mildura and the Hunter Valley to catch nitrous oxide (N2O) (Figure 1). These chambers will be monitored throughout the season to give an indication of typical N2O emissions from the regions and how different vineyard floor management systems might affect the emissions.
Soil sampling at the trial sites is also underway. Soil carbon levels are being monitored in order to better understand the relationship between soil carbon and N2O emissions. Preliminary results will be presented in each of the regions in 2013. For further information contact Dr Mardi Longbottom.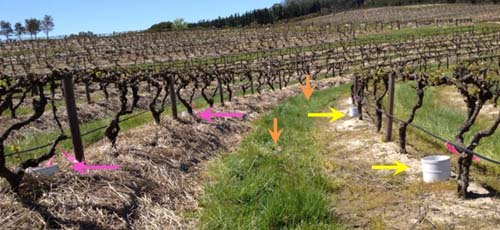 Figure 1. Static chambers for the collection of nitrous oxide from undervine straw mulch (pink arrows), bare undervine (yellow arrows) and midrow (orange arrows) areas in an Eden Valley vineyard.
A sparkling event not to be missed
Whilst Prosecco and Moscato are currently de rigeour, Australia is the 7th largest market for French Champagne – want to know why? Responding to strong demand, the AWRI is holding a special masterclass tasting of 'Sparkling wines of the world'. An essential event for those who want to improve their technical understanding of market leaders in the sparkling wine category. The masterclass will be repeated on two days, with Day 1 already fully subscribed. Some places still remain for Day 2 (Friday, 30 November) and registration can be made on-line.
Eighty wines have been specially chosen to explore the world of sparkling wines. Wines presented will include those from Champagne and other French regions, Cava from Spain, Prosecco from Italy, sparkling wine from Australia and other new world producers, and many more.
Renowned experts, Tony Jordan and Tyson Stelzer, will guide participants through the wide range of styles, from méthode ancestrale, méthode champenoise to more modern styles, production methods, vintage versus non vintage cuvées, rosé styles, and ranges of sweetness. The tasting will include the well known benchmarks, but also examples of wines from the lesser known appellations and sparkling regions from around the world that are not normally accessible in Australia.
This will be a unique session brought to you from the team that stages the AWRI's Advanced Wine Assessment Course (AWAC).
To register on-line, click here.. For further information contact Con Simos or Francesca Blefari or telephone 08 8313 6600.
You can teach an old dog new tricks!
Affectionately known as 'the dog book', the AWRI's Agrochemicals registered for the use in Australian viticulture is soon to become available as an app for smart phones. With all the information from the 'dog book' recommendations at your fingertips, choosing chemical control options and managing export market MRLs is set to become even easier. This service will be freely available to Australia's grape growers and winemakers and is expected to be rolled out this month. For further information, contact Marcel Essling.
Hunter node kick-starts local projects and trials
With the establishment of the AWRI's fourth regional node in the Hunter Valley, a number of exciting projects and trials will be up and running in the region just in time for vintage 2013.
With the support of both the Hunter Valley Wine Industry Association and the NSW Wine Industry Association, the AWRI's Hunter Valley node, headed by Samantha Connew, is the fourth of the AWRI's regional Nodes to be established and the second in regional NSW. A network of regional nodes is a key part of the AWRI's strategy to engage with grape and wine producers on a regional level and on an ongoing basis.
The primary aim of the nodes is to work hands-on with local producers on projects which address regional priorities; to facilitate the adoption of new technology and methods by producers in those regions; and to act as a conduit through which grape and wine producers can more readily obtain greater value from their previous investments in research, development and extension at the AWRI, by accessing knowledge generated and expertise available.
An experienced winemaker, Sam was the Senior Winemaker at Wirra Wirra Vineyards for ten years before moving to Tower Estate in the Hunter Valley at the beginning of 2010. The initial projects to be managed by Sam in the Hunter include:
Semillon phenolics and soil types: building on the knowledge base of the AWRI with regard to white phenolics, this project will determine whether there are any links between the phenolics of Semillon and the three major soil types in the Hunter region.
Rapid yeast assimilable nitrogen (YAN) measurement: this project will use mid infrared spectroscopy to rapidly predict compositional attributes in juices and ferments and allow winemakers to employ appropriate fermentation management strategies.
Tannin and colour profiling: targeted trials will be established to assess the levels of tannins, phenolics and colour in a number of blocks of single vineyard Shiraz through the maturation process.
Fermentation simulator: Hunter winemakers will be trialing a tool which allows the prediction of fermentation trajectory, reduces monitoring requirements and can also predict refrigeration requirements.
The AWRI Hunter Valley node is based at Keith Tulloch Wines in Pokolbin and Sam Connew can be contacted on email or by telephone on 02 6574 7309.
Prickly production of Pinot uncovered
Pinot producers in South-Eastern Australia attended masterclass sessions in Tasmania and Victoria in October 2012. Organised by the AWRI's Victorian and Tasmanian nodes, the sessions provided insights into the viticultural and oenological findings from work funded by a $1.8M AusIndustry Industry Cooperative Innovation Program grant to improve vineyard management and winemaking techniques for the Tasmanian and cool-climate wine industry – with a particular focus on Pinot Noir and sparkling wines.
Along with presentation of the research findings, benchmark Pinot Noir tastings were also held (with Pinot Noir benchmark wines from Tasmania, Victoria, New Zealand, Oregon and Burgundy). The sessions were presented by Dr Richard Smart (Smart Viticulture), Dr Andrew Pirie (Apogee), Drs Fiona Kerslake, Jo Jones and Ruben Wells (Tasmanian Institute of Agriculture), Angela Sparrow (Tasmanian Institute of Agriculture) and Dr Bob Dambergs (The Australian Wine Research Institute).
The sessions were held in Tasmania (Campbelltown) on 8 October, Yarra Valley (Yering Station) 10 October and Mornington Peninsula (Elgee Park) 11 October and invited Pinot Noir producers from all across South Eastern Australia. Just over 40 people attended each session: 127 in total across all three workshops. Feedback from the workshops has been very positive with particular comments surrounding the expertise in the room and the linking of research results with an actual tasting and explanation of what was in the glass. Some presentations from the sessions are available for viewing from the AWRI website. For further information, contact Mark Krstic.
AWRI commercial labs continue quality certification
Customers of the AWRI's Commercial Services laboratories can maintain their confidence of the quality of services offered by the AWRI. In October, the laboratories underwent another two-day NATA* re-assessment audit and passed with flying colours. Despite all the scrutiny from the auditors, and the absences (and additions of new) staff, the AWRI commercial laboratories once again passed the requirements for technical competence.
Maintaining the high standards required by NATA is a large part of the AWRI's commercial day to day operations in order to remain a competitive commercial laboratory. With the committment of all staff this ongoing quality assurance benefits AWRI's customers.
*National Association of Testing Authorities, Autralia (www.nata.asn.au). NATA is the authority that provides independent assurance of technical competence through a proven network of best practice industry experts for customers who require confidence in the delivery of their products and services. NATA provides assessment, accreditation and training services to laboratories and technical facilities throughout Australia and internationally.
AWRI webinars deliver beyond expectations
With comments from participants such as "it was above and beyond what I was expecting….", the AWRI's 2012 webinar program kicked off on 21 August. Over 200 participants have attended this weekly event and registration is free. A webinar is a cost effective way for the AWRI to share its research outputs and knowledge with Australian grape and wine producers, and three webinars are scheduled to be held in November.
An evaluation survey is conducted after each session and comments from the participants include:
"Great webinar, with useful hints and data."
"Excellent overall. Delivered exactly what we were hoping."
"It was above and beyond what I was expecting…."
The feedback also indicates that participants attend a webinar to build on their existing knowledge base and to find out the latest research on the topic. It's not too late to register with three sessions scheduled in November: Making better wine for health (Creina Stockley, AWRI); Winemaking at low pH: avoiding stuck fermentations in whites and sparkling wines (Simon Schmidt, AWRI); Trends and challenges facing wine grapegrowers (Lawrie Standford WGGA).
Smart way to access the AWRI website
If you have, you are part of a growing number of mobile phone users accessing the AWRI website – in fact the number of smart phone users accessing the website has increased by 150% in the last year. In October, the AWRI launched a smart phone-friendly version of the AWRI website. Next time you visit http://www.awri.com.au using your smart phone, you will be automatcially redirected to the mobile version of the site.
Feedback on the AWRI website is welcomed (non-mobile and mobile versions). Please contact Linda Bevin via email or telephone (08) 8313 6600.
Best Riesling in Show
The AWRI Commercial Services was proud to sponsor the Trophy for the Best Riesling in Show at the recently-held Royal Adelaide Wine Show. Congratulations to Patrick Of Coonawarra for receiving the Trophy for their 2006 Patrick of Coonawarra Aged Riesling. Group Manager – Commercial Services, Dr Eric Wilkes, was on hand to award the Trophy.
Recent literature
John Fornachon Memorial Library at the AWRI delivers journal articles and loans books to Australian grapegrowers and winemakers. Books can be searched and requested via the Library catalogue – or you can email the AWRI with your request. A list of recent AWRI publications follows.
To order AWRI staff publications and articles from Technical Review please contact the Library
Articles and books on specific topics can be searched for and ordered via the Library Catalogue
To request a Literature search on a specific topic contact the Library via email or telephone (08) 8313 6600.
Recent AWRI staff publications
Black, C., Francis, L., Henschke, P., Capone, D., Anderson, S., Day, M., Holt, H., Pearson, W., Herderich, M., Johnson, D. Aged Riesling and the development of TDN. Wine Viti. J. 27 (5): 20-22, 24-26; 2012.
Coulter, A. Malolactic fermentation issues explored. Aust. N.Z. Grapegrower Winemaker (584): p. 86; 2012.
Essling, M. Strobilurin resistance to powdery mildew in a vineyard. Aust. N.Z. Grapegrower Winemaker (583): p. 46; 2012.
Gazzola , D., Van Sluyter, S.C., Curioni, A., Waters, E.J., Marangon, M. Roles of proteins, polysaccharides, and phenolics in haze formation in white wine via reconstitution experiments. J. Agric. Food Chem. DOI: 10.1021/jf302916n: 1-8; 2012.
Krstic, M. Smoke taint symposium unveils some exciting new developments. . N.Z. Grapegrower Winemaker (583): p. 40; 2012.
McRae, J.M., Dambergs, R.G., Kassara, S., Parker, M., Jeffery, D.W., Herderich, M.J., Smith, P.A. Phenolic compositions of 50 and 30 year sequences of Australian red wines: the impact of wine age. J. Agric. Food Chem. 60 (40): 10093–10102; 2012.
Scrimgeour, N., Cynkar, W., Wilkes, E. Non-invasive spectroscopic screening: a new approach to assessing damaged wines – Part 2. Aust. N.Z. Grapegrower Winemaker (583): 70, 72-73; 2012.
Stockley, C.S., Varela, C., Coulter, A., Dry, P.R., Francis, I.L., Muhlack, R., Pretorius, I.S. Controlling the highs and the lows of alcohol in wine. Peeters, A.S. Wine: Types, production and health. Nova Science Publishers, Hauppauge, N.Y. 281-299; 2012.
Williamson, P.O., Robichaud, J., Francis, I.L. Comparison of Chinese and Australian consumers' liking responses for red wines. Aust. J. Grape Wine Res. 18 (3): 256-267; 2012.
Disclaimer
The material contained in this publication is comment of a general nature only and is not and nor is it intended to be advice on any specific technical or professional matter. In that the effectiveness or accuracy of any technical or professional advice depends upon the particular circumstances of each case, neither the AWRI nor any individual author accepts any responsibility whatsoever for any acts or omissions resulting from reliance upon the content of any articles. Before acting on the basis of any material contained in this publication, we recommend that you consult appropriate technical/professional advisers.