Communication with stakeholders
Project summary
For the Australian grape and wine community to achieve the greatest possible benefit from its investments in research, development and extension, it is essential that research outputs and relevant technical advice are regularly communicated in formats designed for easy understanding and rapid adoption. This project develops new content and manages the delivery of information and knowledge to Australian grape and wine producers via a large range of electronic and hard copy publications, such as the AWRI website, industry journals, the AWRI Annual Report, AWRI Technical Review, electronic newsletters and social media.
Project summary
AWRI website
The AWRI website is a major platform for communicating with grape and wine producers, students, potential employees and the general public. Approximately 150,988 visitors (23.1% increase from 2017/2018) accessed the AWRI website during the year, with more than 540,076 page-views. Of the total page-views, 32% were viewed using a mobile device or tablet. Updates to content included new fact sheets, summaries of the projects being conducted under the AWRI's 2017-2025 RDE plan, information about the AWRI wine microorganism culture collection, and a large number of previously published columns and articles. The website was also used to communicate with levy payers about the AWRI Board election and to promote events including seminars, workshops, tastings and webinars.
eBulletins and eNews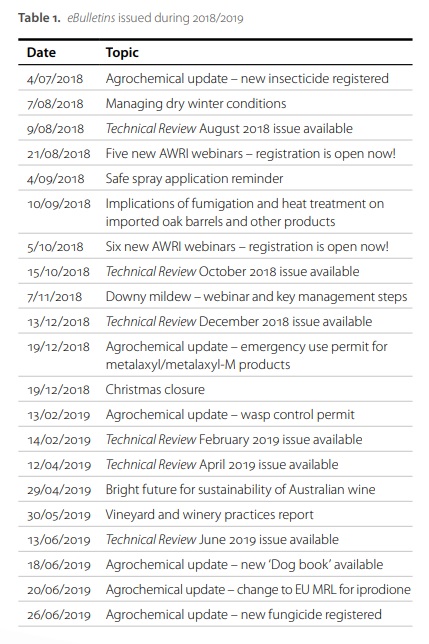 Twenty-one eBulletins were delivered to approximately 3,350 subscribers during the year (Table 1).
The AWRI's electronic newsletter, eNews, was distributed bi-monthly to an audience of more than 3,600 subscribers. This publication provides information about upcoming events, new information resources, research updates and a general snapshot of the AWRI's activities.
Social media
The AWRI's Twitter following grew by over 120 during 2018/2019 to reach 3,515. The AWRI's Facebook presence also grew by almost 250 likes during the year to reach 1,250. The AWRI's YouTube channel includes AWRI webinar recordings and other AWRI video content. Subscribers grew by more than 200 during 2018/2019 and the channel attracted more than 9,500 views.
Annual report
For the past 64 years, the AWRI has produced a printed annual report as its formal report to Australian winemakers and grapegrowers. Since 1999, the annual reports have also been made available on the AWRI's website. The AWRI publishes a summary of the annual report in the Australian & New Zealand Grapegrower & Winemaker and offers to deliver an annual presentation to the board or executive of each major state-based winemaking body. This formal activity complements the wide range of other extension and communication activities undertaken by AWRI staff members throughout the year.
Technical Review
The AWRI's bi-monthly publication, Technical Review, publishes abstracts of recently published grape and wine science literature and technical articles authored by AWRI staff. Technical Review is available to grape and wine producers via the AWRI website or in hard copy. A total of 598 articles featured in the Technical Review Current Literature section were requested by and provided to readers during the year.
Editorial support
The AWRI contributes regular articles to Wine and Viticulture Journal and Australian & New Zealand Grapegrower & Winemaker, while also contributing other to other Australian and international industry journals.
Media liaison
The AWRI is regularly approached by national and international media for comment on technical issues related to wine. One media release was prepared and distributed and 44 requests from the media were handled during the year.
Project Contact
Ella Robinson
Find out more