Specialised technical troubleshooting and responsive helpdesk services for the Australian wine sector
Project summary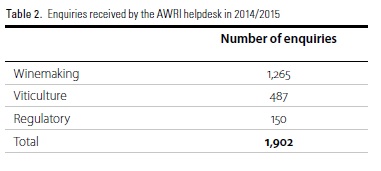 The AWRI's technical helpdesk is a key service offered to grapegrowers and winemakers across Australia. It provides rapid, confidential support on a wide range of topics including winemaking, viticulture, health, regulatory and trade issues, delivered by a team with extensive industry experience and detailed knowledge of grape and wine technical issues. Industry personnel are able to contact the helpdesk by phone or email to ask advice, seek information or discuss issues. Samples can be submitted for problem solving investigations which may involve sensory, chemical or microbiological analysis. By identifying and quickly resolving issues as they arise, producers are able to minimise volume, quality and reputational losses while being assured that this service maintains strict confidentiality.
Over 1,900 enquiries were received during 2014/2015 (Table 2). A database of all queries allows trends and spikes to be monitored, and appropriate responses coordinated and implemented as required. More than 80% of enquiries received during the year were answered within 24 hours.
Latest information
Winemaking enquiries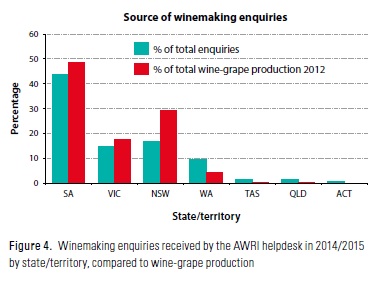 The majority of the winemaking enquiries received during the year were from wine companies and suppliers closely aligned with the wine industry, with the remaining queries originating from government organisations, students, legal practitioners and journalists. Approximately 20% of winemaking-related enquiries resulted in investigations, with samples requested and further analysis performed to identify the problem and recommend a process for remediation. The sources of winemaking enquiries received were generally aligned with the proportional volume of wine-grape production by state/territory, with the exception being NSW where the enquiries were just over half the proportional volume of wine-grape production (Figure 4).
The type and number of enquiries received by the helpdesk varied considerably, largely dependent on the time of year. Vintage 2015 was one of the earliest, if not the earliest on record for many wine regions in Australia. It was also a compressed vintage in many regions, which put pressure on vineyard and winery equipment and infrastructure. As with every vintage, there were viticultural and weather-related challenges, but overall the warm and dry conditions that led to the early vintage contributed to excellent grape and wine quality across the majority of regions.
During January and February, bushfires occurred in South Australia, Western Australia and Victoria, creating significant concern among growers and winemakers about smoke taint. A number of factors can influence the likelihood of a smoke event causing smoke taint in wine. These include the intensity and duration of smoke exposure; climatic conditions; and the growth stage of the particular grape variety at the time of exposure. This range of factors means that it is not an easy task to assess the level (if any) of damage to fruit following a fire event or to predict what will happen once the fruit is made into wine. Analytical data from testing volatile phenols and their non-volatile glycoside precursors give the best indication as to whether or not fruit has been exposed to smoke. Sensory and chemical analysis of small-scale ferments can assist in assessing the likely impact on final wines; however, this does take additional time to complete.
For vintage 2015 the majority of analytical results were found to be similar to, or only slightly higher than, levels that might be expected for non-smoke exposed vineyards. However, in the case of fruit destined for sparkling winemaking, results even slightly higher than background were cause for serious concern, given that the slightest hint of smoke characters can have a significant impact on the sensory profiles of sparkling base wines. Added to this, winemakers reported that they found it very difficult to conduct sensory assessments for smoke taint on smallscale ferments made from fairly unripe fruit destined for sparkling base. Consequently, although the risk of smoke taint development was considered to be low for many of the samples tested, smoke-exposed fruit destined for sparkling wines was the most at risk of being rejected.
Every year a number of wineries contact the AWRI helpdesk requesting assistance in dealing with possible contaminations caused by burst hydraulic oil lines. It can be challenging to determine analytically whether or not a sample has been contaminated, as hydraulic oil is typically present in trace amounts. The AWRI has developed a method where the suspected hydraulic oil is first tested for a unique marker (typically an antioxidant), and if one can be identified, the potentially contaminated wine is tested for that marker (provided it is not naturally present in wine). Testing throughout this vintage and previous vintages has shown that not all hydraulic oils have unique markers, so not all cases of contamination can be identified analytically. Wines where there is evidence or suspicion of hydraulic oil contamination do not meet the requirements of the Australian and New Zealand Food Standards Code (Standard 4.5.1) and it is suggested by the AWRI that such wines should be considered unsaleable. The AWRI recommends regular preventative maintenance on critical machinery such as machine harvesters to minimise the risk of hydraulic oil contaminations.
Viticultural enquiries
During the year, the viticulture team responded to 487 viticulture- related enquiries. More than 20% of these were related to agrochemicals. The next three most common topics for queries were vineyard pests, general viticulture and sustainability. Other queries covered smoke taint, vineyard nutrition, weather and specific varieties.
Agrochemical queries varied across a range of themes such as managing residues in wine, appropriate withholding periods for certain markets, resistance management and specific options for pest problems. Fungal pests made up about two-thirds of the pest-related queries with most of the remainder being about insect issues. Trunk disease appears to be a growing problem as vineyards get older and this was reflected in queries from a range of regions on this topic.
Agrochemical queries varied across a range of themes such as managing residues in wine, appropriate withholding periods for certain markets, resistance management and specific options for pest problems. Fungal pests made up about two-thirds of the pest-related queries with most of the remainder being about insect issues. Trunk disease appears to be a growing problem as vineyards get older and this was reflected in queries from a range of regions on this topic.Agrochemical queries varied across a range of themes such as managing residues in wine, appropriate withholding periods for certain markets, resistance management and specific options for pest problems. Fungal pests made up about two-thirds of the pest-related queries with most of the remainder being about insect issues. Trunk disease appears to be a growing problem as vineyards get older and this was reflected in queries from a range of regions on this topic.
Regulatory enquiries
There were 150 regulatory-related enquiries during 2014/2015. One repeated request has concerned appropriate wine for vegetarians and vegans and information on vegetarian or vegan-friendly wine labelling. From 2013 Roy Morgan research, the number of Australians aged 14+ who agree with the statement, "The food I eat is all, or almost all, vegetarian" has grown from 1,608,000 in 2009 to 1,935,000 or 10% of the population. According to media reports, vegetarian-friendly wines now make up more than 50 per cent of wines listed at Tesco, the UK's biggest supermarket chain; fewer vegan-friendly wines are available. Unfortunately the majority of wines do not contain information on their back label to indicate whether or not they are vegetarian or vegan-friendly.
Alcohol consumption is an accepted part of the vegan diet; however when winemaking is carefully considered, not all wine is suitable for vegans. Any wines fined with the animal-derived processing aids casein, potassium caseinate, skim milk, egg albumin/egg white, gelatin and isinglass are not vegan-friendly. Clay-based bentonites are a veganfriendly alternative fining agent. To aid appropriate buying decisions by vegetarians and vegans, wine producers could consider including information on back labels about the fining agents used.
Other regulatory queries included:

concentration and potential toxicity of phthalates in wine as well as sources
concentrations and sources of manganese in Australian wine, as well as other elements
international legal limits related to the use of ion exchange and electrodialysis, as well as additions of metatartaric acid, mannoproteins and sodium carboxymethylcellulose for stability
sources of allergens in wine including fining agents as well as lysozyme and new plant proteins
ingredient and nutritional labelling
migration of chemicals from various packaging materials
starter cultures as additives or processing aids
legality of ethanol addition to wine to enhance alcohol content
legality of ascorbic acid versus erythorbic acid in international markets
legality of gold as an additive for wine or wine products
label declarations for domestic and international markets.
Winemaking problem solving investigations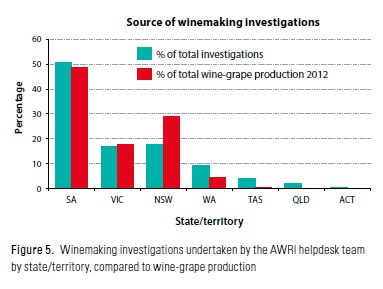 In 2014/2015 the AWRI helpdesk team conducted 204 winemaking problem solving investigations. The annual number of investigations has been consistent over recent years, although the number of samples analysed as part of these investigations has increased (Table 3). A breakdown of the investigations conducted by state/territory is shown in Table 4. Trends are generally similar to previous years, with SA, Victoria and NSW accounting for the highest numbers of investigations. The sources of the winemaking investigations conducted were generally aligned with the volume of wine-grape production of the different states/territories (Figure 5).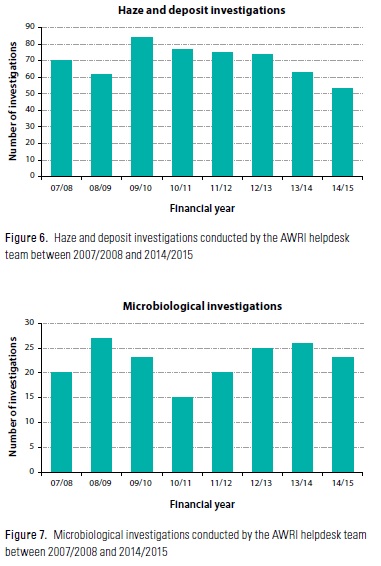 The total number of investigations conducted into wines affected by hazes and deposits continues to be substantial (Figure 6). More than 35% of the deposits identified during 2014/2015 were crystalline, with slightly more potassium hydrogen tartrate deposits than calcium tartrate deposits. A few of the potassium hydrogen tartrate deposits were from wines stabilised with carboxyl methyl cellulose (CMC). In these cases it was found that the wines were grossly cold unstable and not suitable for CMC use. For such wines, it is advisable to partially cold stabilise via traditional chilling before adding CMC.
The number of investigations conducted into microbiological instabilities decreased slightly this year (Figure 7) but was still considered significant. The problems encountered were varied and included high levels of volatile acidity (VA), stuck fermentations, mousiness, 'Brett'- related spoilage, and post-bottling yeast and bacterial growth. 'Brett'-related investigations have increased again this year, making up more than 30% of the microbiological investigations conducted. This suggests that wineries need to maintain a focus on dealing with this issue.
Forty-eight sensory investigations were carried out in 2014/2015 (Figure 8).
These included a number of microbial-related issues including wines affected by 'Brett', wines with elevated levels of volatile acidity and aldehyde and wines affected by indole and mousiness. Other investigations examined reductive wines and wines affected by high levels of salt. A further small number of wines were cleared once assessed by the AWRI's trained sensory panel. Sensory evaluation is an important analytical and research tool, and is also commonly used in problem solving investigations classified under other categories, such as 'microbiological investigations', 'taint problems' and 'other'.
During 2014/2015 there were four investigations relating to closures, compared to eight the previous year. Two investigations involved leakage (one wine under natural closure and one under screwcap). The leakage of the screwcapped wine was attributed to a 'line over finish' fault on the top surface of the glass bottle. This term refers to an elongated line or groove in the glass, which prevents proper sealing by a cap. This type of fault is quite rare and arises during the manufacture of the glass bottles; it would have been very difficult to pick up at the time of packaging. Another investigation involved a sparkling product bottled under both cork closure and crown seal closure.
The portion bottled under crown seal had become very reductive and undrinkable over time. The investigation showed that the reductive character has been induced by the presence of metal ions in the wine. The underlying cause was wine seeping between the liner and the metal component of the crown closure, which caused the liners in the crown closures to bubble up and the metal crown to begin to rust, allowing metal ions to leach into the wine.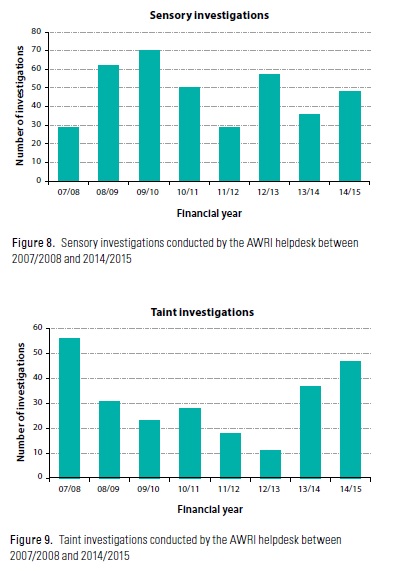 Twenty-nine investigations classified under the category 'other' were conducted during 2014/2015. Over a third of these investigations were cases where the authenticity of a wine had been brought into question. Some of these cases involved wines that had been assessed prior to purchase but when received by the buyer there were doubts as to whether it was the same wine as had been previously assessed. The AWRI advises producers to keep a holdback sample whenever wine is sent to a contract provider or exported in bulk. This allows an investigation to be conducted if a dispute arises. Other issues investigated included pinking, gas sparging, filtration and method discrepancies between different laboratories.
Forty-seven 'taints and contaminations' investigations were carried out during 2014/2015 (Figure 9), a number that was higher than the previous year (37), and consistent with the long-term average from 1999/2000 to 2014/2015 (45). A large proportion (~85%) of the investigations were carried out using gas chromatography mass spectrometric (GC-MS) techniques. Of these, twelve investigations were related to smoke taint, and others involved vintage-related issues including hydraulic oil (seven investigations), grapeseed oil, cleaning products, musty characters, brine contamination and a wine which was located in close proximity to a coal mine fire. There was also one investigation into a wine with millipede taint, and three investigations into wines containing indole.
Most unusual investigation
The year's most unusual investigation involved a wine that had been bottled from a tank that was found to contain a dead frog. The frog was identified by the South Australian Museum Herpetology Department as a Peron's Tree frog (Litoria peronii), a species commonly found around suburban Sydney. Prof. John Bowie, an expert in frog secretions, provided information that this frog species secretes a number of toxic host-defence peptides (Bilusich et al. 2009) and provided the mass spectrometry fragments that identify these peptides. The SA Metabolomics Facility analysed a control wine and the potentially contaminated sample to look for the marker fragments in the wine, and also compared the control to the potentially contaminated wine to see if any chemical differences could be detected between them. No differences were detected between the wines and none of the frog marker compounds could be detected in the sample. This suggested that the sample was either not contaminated or that any compound present was below the levels of detection or of concern.
Project Team
Con Simos
Matt Holdstock
Adrian Coulter
Geoff Cowey
Marcel Essling
Randell Taylor
Creina Stockley
Paul Petrie
Gayle Baldock
Yoji Hayasaka
Markus Herderich
Find out more
AWRI Helpdesk
Winemaking
Viticulture
Regulatory information
Wine and health
Climate and environment
Reference
Bilusich, D., Jackway, J., Musgrave, I.F., Tyler, M.J, 2009. The host defence skin peptide profiles of Peron's tree frog Litoria peronii in winter and summer. Sequence determination by electrospray mass spectrometry and activities of the peptides. Mass Spectrom. 234: 2628-2636.