While there are many reasons a winemaker might want to limit the amount of oxygen a wine is exposed to during its life, Wine Australia-funded research at the AWRI has shown a number of benefits from adding air or oxygen to wine ferments. Wine composition and style can be influenced through the addition of air during red fermentations, whereas white fermentations tend to see benefits in terms of shorter fermentation duration. This page provides resources for winemakers interested in learning how to aerate ferments or finding out more about the benefits of air/oxygen addition.
Benefits of aeration
Oxygen is a key nutrient in the context of fermentation despite wine fermentation being conducted largely anaerobically. Supplementation of ferments with oxygen (through addition of air or oxygen) has been shown in white ferments to be beneficial to fermentation progress, especially if added at key growth stages
In red fermentations benefits from adding air/oxygen during primary fermentation include mitigation of reductive characters, increases in 'red fruit' characters and improved stylistic outcomes through mouthfeel changes such as reduced astringency (Day et al. 2021). In white fermentations, the primary benefit from adding air/oxygen during primary fermentation is the reduction of fermentation time in challenging ferments.
The following resources focus on understanding the effects of aeration of wine fermentations:
An episode of the AWRI decanted podcast by Dr Simon Schmidt, AWRI Research Manager, discusses the progress and outcomes from more than five years of research on aeration of ferments.
How to aerate ferments – practical tips
The AWRI has developed a range of practical 'best practice' and 'how to' resources to help winemakers adopt aeration of red ferments:
The fact sheet Ways to introduce oxygen into an active red ferment provides tips on the practical aspects needed to aerate a red ferment, including the equipment required and how to add the air.
The webinar recording Aerating ferments: why aeration is useful and how you can do it from 24 November 2020 describes both benefits of aeration and practical tips on how to do it.
The recording of a November 2021 workshop on Aeration of red ferments covers a range of aspects of aerating red ferments including the equipment needed, how to set it up and use it, as well as insights into the latest technology for measuring oxygen during fermentation. Two winemakers from businesses of different scales also discuss how they use aeration and what they have learnt over the years.
This video demonstrates how to add air using simple systems such as a venturi or an inline sinter (picture below).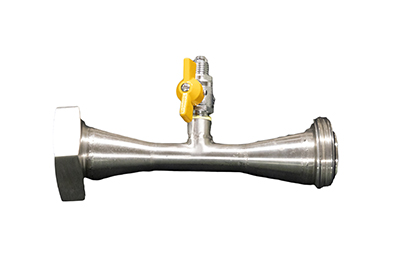 Example of a venturi used in aeration of ferments
Example of an inline sinter used in aeration of ferments
Case studies
Adding oxygen during fermentation – case studies looks at three wineries who have experience with aeration and provides insight into how they have adopted the practice and the effects achieved. The wineries featured are:
Calabria Family Winemakers – Riverina, NSW
Houghton Wines – Margaret River, WA
Chapel Hill – McLaren Vale, SA
In addition, in an episode of the podcast AWRI decanted, Matt Zadow, Operational Winemaker at Yalumba's Oxford Landing Winery discusses how he implemented the outcomes from the AWRI's aeration research into his winemaking and how he influences wine style through aeration.
References and further reading
Bekker, M. Z., Nandorfy, D.E., Kulcsar, A. C., Faucon, A., Bindon, K., Smith, P. A. 2021. Comparison of remediation strategies for decreasing 'reductive' characters in Shiraz wines. Aust. J. Grape Wine Res. 27: 52-65.
Bekker, M.Z. Day, M.P. Holt, H. Wilkes, E. Smith, P.A. 2016. Effect of oxygen exposure during fermentation on volatile sulfur compounds in Shiraz wine and a comparison of strategies for remediation of reductive character Aust. J. Grape Wine Res. 22 (1): 24-35.
Day, M. P., Smith, P.A., Schmidt, S.A., Wilkes, E. 2015. Use and impact of oxygen during winemaking. Aust. J. Grape Wine Res. 21: 693-704.
Day, M.P., Nandorfy, D.E., Bekker, M.Z., Bindon, K.A., Solomon, M., Smith, P.A., Schmidt, S.A. 2021. Aeration of Vitis vinifera Shiraz fermentation and its effect on wine chemical composition and sensory attributes. Aust. J. Grape Wine Res. 27: 360–377.
McRae, J.M. Day, M.P. Bindon, K.A. Kassara, S. Schmidt, S.A. Schulkin, A. Kolouchova, R. Smith, P.A. 2015. Effect of early oxygen exposure on red wine colour and tannins. Tetrahedron 71 (20): 3131-3137.
Smith, P., Day, M., Schmidt, S., McRae, J. Bindon, K., Kassara, S., Schulkin, A., Kolouchova, R., Wilkes, E., Herderich, M., Johnson, D. 2014. Exploring oxygen's influence. Wine Vitic. J. 29(6): 33-36.
Acknowledgement
The AWRI's research on aeration of ferments and the associated practice change project is supported by Wine Australia, with levies from Australia's grapegrowers and winemakers and matching funding from the Australian Government.