19 ways to take the heat out of refrigeration costs for wineries
Assistance for grapegrowers
Cutting the confusion for consumers – the PinotG Style Spectrum label
Process review delivers savings to Commercial Service customers
Cheers to your health
The next AWRI's sensory 'boot-camp' to be held in June
From the candle to the light bulb: database enlightens grape and wine production evolution
Award boosts haze formation understanding
Greasing the 'cogs' of innovation
Free online information resources and recent AWRI publications
19 ways to take the heat out of refrigeration costs for wineries
Refrigeration in Australian wineries accounts for 50-70% of total electricity use. Cooling, critical to the production of quality wines, not only impacts on profitability, it also enlarges the carbon footprint of wine producers. With the focus on reducing environmental harms and improving profitability, the AWRI's Commercial Services team of winery process operations experts has prepared a new handbook which helps wine producers understand and improve winery refrigeration efficiencies.
With their knowledge of the processes involved in wine production, they have identified 19 improvement opportunities presented in terms of both low-cost and high-cost solutions. This publication is vital reading for everyone in the industry who relies on cooling and refrigeration.
A reduction in financial and environmental impacts for wine producers is a key aim of the AWRI's carbon management specialists. This handbook is freely available to download from the AWRI's website. For further information contact Karl Forsyth, Senior Engineer on email: karl.forsyth@awri.com.au or telephone 08 8313 6600.
Assistance for grapegrowers
Can we help? Vineyards situated across the eastern states have faced an unusual amount of pressure this season and chemical shortages have combined with relentless weather events to push the balance in favour of disease, in some instances. In these circumstances, we understand that growers face the challenging task of adapting spray programs to the conditions while meeting the needs of specific markets. The AWRI viticulture team is there to help growers and have handled over 80 queries over the last 30 days, assisting mostly with fungal disease and agrochemical issues. For help with any viticultural query, contact Marcel Essling or Peter Dry on 08 8313 6600.
Cutting the confusion for consumers – the PinotG Style Spectrum label
Is your Pinot Gris or Grigio wine crisp and racy? Or would you describe it as luscious, opulent and luxurious? Maybe it's somewhere in-between… Do you know? And do your consumers know what to expect when they buy it?
You can cut through consumer confusion about Pinot G wines by getting yours rated on the Pinot G Style Spectrum™. By placing the Spectrum graphic on your wine label you can communicate the style of your wine directly to consumers.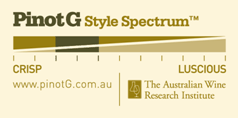 This service, recently launched by the AWRI, is the outcome of more than three years' research and development in collaboration with Pinot G producers. The Style Spectrum label was trialled on a small number of wines in 2010, and is now ready to go global! We expect to see at least 800,000 bottles and casks labelled with the PinotG Style Spectrum by the end of 2011.
For more information, visit http://www.PinotG.com.au or to enquire about having your wine rated on the Spectrum, contact the AWRI on tel: 8313 6600 or email: pinotGstylespectrum@awri.com.au.
Process review delivers substantial savings to Commercial Service customers
In listening to our customers, we've spent the last 18 months reviewing our processes and operations to see where we could improve our service and deliver price cuts. We're pleased to advise that we've been able to implement lean initiatives, which has allowed us to streamline our operations to reduce cost and improve turnaround times, while maintaining our high quality, reliable services. Our customers now pay less to receive a faster high quality service.
Our revised price list provides the details of the reduced prices and turnaround times on our services. The key points to note about our reduced prices are that customers no longer pay a handling fee and we no longer offer a free delivery service from the winery to the AWRI. However, for export analysis, we continue to offer a free courier service of your samples from the AWRI to the AWBC for export approval. Our 'speedy lab' video explains more about our commitment and fast service. By using our services, customers not only feel good about receiving great service at a great price, they know any net proceeds from Commercial Services is fed back into research which supports the Australian wine industry.
Contact our Customer Service for more information on telephone 08 8313 6600 or email: commercialservices@awri.com.au
Cheers to your health
Enjoying wine in moderation can have some health benefits, explains AWRI's Health and Regulatory Information Manager, Creina Stockley, but, she says "heavy, excessive consumption of alcohol does increase the risk of harm to your health." The AWRI has recently prepared an Information Series on the impacts of alcohol consumption on human health to supplement their A-Z of information on wine and health issues booklet and published papers.
"The news isn't all bad," Creina explains "Light to moderate consumption of alcohol can confer some health benefits to your heart, to diabetes, to cognitive function, and potentially lowers your risk for certain cancers. It's important to understand what 'moderation' is and what the risks are when it is exceeded."
The Information Series, comprising 13 sheets, includes information on alcohol's impact on the heart, brain, liver, kidneys, pancreas and cognitive function. This Information Series can be accessed via the AWRI website. Further information can be obtained by contacting Creina Stockley at the AWRI on telephone 08 8313 6600 or email: wineandhealth@awri.com.au
The next AWRI's sensory 'boot-camp' to be held in June
The next Advanced Wine Assessment Course (AWAC) will be held from 21-24 June in Adelaide. The intensive 40 hour program, over four-days, includes over 320 wines to be tasted and involves leading wine show guest judges, journalists and winemakers in simulated wine show conditions. The course program challenges and develops the ability of participants to assess wine reliability and helps to develop a common wine vocabulary.
Since 1992, The Australian Wine Research Institute has held the AWAC for wine professionals. Many participants undertake the course as a step to becoming a wine show judge. Others value the ability to benchmark their wine assessment ability (to understand where their strength and weaknesses lie) as a means to becoming a better wine assessor.
For anyone interested in taking part, please join our mailing list by completing an expression of interest form found at https://www.awri.com.au/industry_support/awac/
From the candle to the light bulb: database enlightens grape and wine production evolution
We know the invention of the light bulb wasn't the result of the continuous improvement of candles. So too, could be said about the evolution of grape and wine production. From the production practices of the ancients to the modern processes of today, this massive change has involved many paradigm-shifting innovations. Yesterday's innovations are today's traditions, as today's innovations will be tomorrow's traditions. To capture this valuable information, the AWRI has developed a Wiki-style web database listing grape and wine innovations, commencing from 6,000BC. We are seeking knowledgeable individuals to contribute to this database.
The purpose of this website is to act as a repository of historical and current information relating to innovations in grape and wine production. The information on this site is accessible to everyone, and the copyright is maintained by The Australian Wine Research Institute on behalf of the Australian wine industry.
Our intention is to manage a website which provides as complete and as accurate information as possible about innovations in grape and wine production. We intend for this information to be a valuable resource for wine professionals, academics, researchers and students. To ensure complete and accurate information is available from this website, we need knowledgeable individuals to add missing information. Adding information (as 'Wiki-style' records) is easy, and we invite interested people to visit the site and contribute information about grape and wine innovations.
The website address is: http://www.winehistory.com.au. Further information can be obtained from Rae Blair, Communication Manager (email: enquiries@awri.com.au)
'Those who cannot remember the past, are condemned to repeat it.' — George Santayana
Award boosts haze formation understanding
AWRI Research Scientist, Matteo Marangon has been awarded the Viticulture and Oenology 2011 Science and Innovation Award for Young People in Agriculture, Fisheries and Forestry.
This award provides funding of $22,000 and will allow Matteo to spend time in Aude Vernhet's lab in Montpellier in June and July this year to extend the knowledge on protein haze formation he already developed in Montpellier through his last external grant from the French and Australian Science and Technology Travel Award.
The award will also fund rental costs for a qNano System. This instrument utilises scanning ion occlusion spectroscopy to detect nanoparticles, such as proteins, tannins and polysaccharides, and allows us to collect data we were not previously able to obtain.
We will use the data from this instrument and from other instruments in Aude Vernhet's lab to understand how and why grape proteins unfold and aggregate together to form haze in wines and what the role of other wine components is in this process. A deeper understanding of haze formation puts us in a better position to develop novel ways to deal with this problem.
Greasing the 'cogs' of innovation
As a means of encouraging the staff at the AWRI to think more innovatively and 'outside the square', we established the AWRI Innovation Award. From a field of 13 applications and five finalists, the inaugural AWRI Innovation Award was won by Dr Anthony Borneman.
Anthony accessed state-of-the art genome sequencing technology to define the genetic basis of what makes wine yeasts unique. The work was published and accepted for publication in the high-ranking (IF ~10) journal PloS Genetics. Anthony's work and publication has made headlines and created blogging opportunities on a number of national and international websites, and has boosted our understanding of yeast.
Anthony was presented the Award by the Chairman of the AWRI Board, Mr Peter Dawson. Peter was part of an external selection committee and stated "All of the nominees were considered to be of merit in the context of the criteria, however, Anthony Borneman received unanimous support as the winner."
Free online information resources and recent AWRI publications
Our library staff have discovered two free online information resources: one which provides downloadable textbooks and the other provides a database of chemical structures.
Chemspider – Chemspider is an online database of chemical structures which is provided free by the Royal Society of Chemistry. You can search chemical compounds using systemic names, synonyms, trade names, registry numbers, etc. The results retrieved include the chemical structure of the compound and its properties, patents, research articles and chemical suppliers.
Chemspider can be accessed via the following URL – http://www.chemspider.com/
BookBoon – BookBoon offers free downloadable textbooks. The IT series includes manuals on Microsoft Office Word, Excel, and Power Point which will enable you to brush up on your Microsoft skills. The pdfs of these books can be accessed via the following URL http://bookboon.com/au/textbooks/it
If you would need more comprehensive information, the wide range of IT manuals held by the John Fornachon Memorial Library are available for borrowing by grapegrower and winemaker levy payers.
Research articles and books can be requested from the John Fornachon Memorial Library at infoservices@awri.com.au or phone us on (08) 8313 6600.
Recent publications by AWRI researchers
Capone, D.L., Van Leeuwen, K., Taylor, D.K., Jeffery, D.W., Pardon, K.H., Elsey, G.M., Sefton, M.A. Evolution and occurrence of 1,8-Cineole (Eucalyptol) in Australian wine. Journal of agricultural and food chemistry 59 (3) : 953-959; 2011.
De Bei, R., Cozzolino, D., Sullivan, W., Cynkar, W., Fuentes, S., Dambergs, R., Pech, J., Tyerman, S. Non-destructive measurement of grapevine water potential using near infrared spectroscopy. Australian journal of grape and wine research doi: 10.1111/j.1755-0238.2010.00117.x :10 p.; 2010.
Dungey, K.A., Hayasaka, Y., Wilkinson, K.L. Quantitative analysis of glycoconjugate precursors of guaiacol in smoke-affected grapes using liquid chromatography-tandem mass spectrometry based stable isotope dilution analysis. Food chemistry 126 (2) : 801-806; 2011.
Giaccio, J., Capone, D.L., Hakansson, A.E., Smyth, H.E., Elsey, G.M., Sefton, M.A., Taylor, D.K. The formation of wine lactone from grape-derived secondary metabolites. Journal of agricultural and food chemistry 59 (2) : 660-664; 2011.
Hayasaka, Y., Baldock, G.A., Parker, M., Pardon, K.H., Black, C.A., Herderich, M.J., Jeffery, D.W. Glycosylation of smoke-derived volatile phenols in grapes as a consequence of grapevine exposure to bushfire smoke. Journal of agricultural and food chemistry 58 (20) : 10989-10998; 2010.
Kneknopoulos, P., Skourourmounis, G.K., Hayasaka, Y., Taylor, D.K. New Phenolic Grape Skin Products from Vitis vinifera cv. Pinot Noir. Journal of agricultural and food chemistry 59 (3) : 1005-1011; 2011.
Liccioli, T., Tran, T.M.T., Cozzolino, C., Jiranek, V., Chambers, P.J., Schmidt, S.A. Microvinificationhow small can we go? Applied microbiology and biotechnology 89 (5) : 1621-1628; 2011.
Liccioli, T., Chambers, P.J., Jiranek, V. A novel methodology independent of fermentation rate for assessment of the fructophilic character of wine yeast strains. Industrial microbiology & biotechnology 10.1007/s10295-010-0854-y : 11 p.; 2010.
Marangon, M., Van Sluyter, S.C., Neilson, K.A., Chan, C., Haynes, P.A., Waters, E.J., Falconer, R.J. Roles of grape Thaumatin-like protein haze and chitinase in white wine haze formation. Journal of agricultural and food chemistry 59 (2) : 733-740; 2011.
Nygaard, M., Osidacz, P., Roget, W., Francis, L., Vidal, S., Aagaard, O. The effect of closure choice on consumer rating of wines : AWRI study series. Australian & New Zealand grapegrower & winemaker (563) : 55-56, 58-60; 2010.
Osidacz, P.C., Robichaud, J.A., Francis, I.L. Gan bei! Wine drinking habits in China. Australian & New Zealand grapegrower & winemaker (565) : 49-52; 2011.
Roget, W., Nordestgaard, S., Forsyth, K. Come in from the cold. Australian & New Zealand grapegrower & winemaker (563) : 61-62, 64; 2011.
Stanley, D., Chambers, P.J., Stanley, G.A., Borneman, A., Fraser, S. Transcriptional changes associated with ethanol tolerance in Saccharomyces cerevisiae. Applied microbiology and biotechnology 88 (1) : 231-239; 2010.
Disclaimer: The material contained in this publication is comment of a general nature only and is not and nor is it intended to be advice on any specific technical or professional matter. In that the effectiveness or accuracy of any technical or professional advice depends upon the particular circumstances of each case, neither the AWRI nor any individual author accepts any responsibility whatsoever for any acts or omissions resulting from reliance upon the content of any articles. Before acting on the basis of any material contained in this publication, we recommend that you consult appropriate technical/professional advisers.