Cool new weather tools for a hot summer
Vineyard scale control options
Entwine Australia – the results are in!
Are you on the AWAC mailing list?
One-day wine show judging course returns in November
Order the latest AWRI staff publications online
Cool new weather tools for a hot summer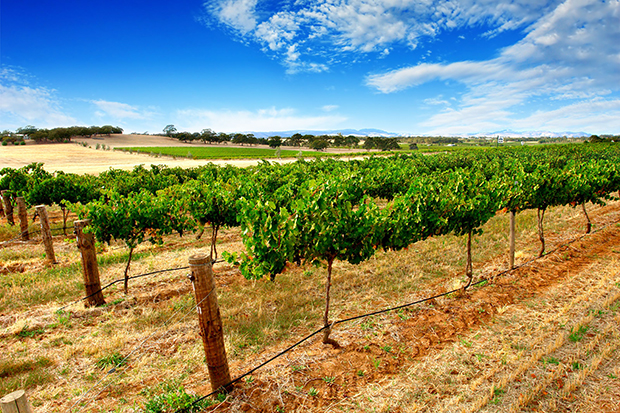 With hot weather having arrived early in spring and the strongest El Niño system ever having been declared, there are some concerns across our industry about the weather between now and the 2016 harvest. The Bureau of Meteorology (BOM) has forecast a hotter and drier October and November, likely to dry out the country and bring forward extreme fire conditions that would usually only be faced in late January and February. Fire ban dates have thus also been brought forward, starting from 26 October to 1 November in many regions.
The BOM continues to release new weather tools that can help you track and adjust to changing weather conditions. For example, recent access to the Japanese satellite Himawari-8 allows near real-time weather tracking. Some of the key tools offered by the BOM, including 7-day, 14-day and seasonal forecasts and the El Niño/Southern Oscillation (ENSO) tracker (important in this strong El Niño year), are outlined below.
New near real-time imagery from Japanese satellite Himawari-8 has recently become available in Australia. This satellite web viewer lets you zoom in to your state, to 0.5-2 km resolution, with new colour images uploaded every ten minutes. This allows you to see cyclones, storm events, fog, volcanic ash and perhaps bushfire plumes, potentially giving an indication if your vineyard has been exposed to smoke. An overview of the satellite's capabilities can be viewed here.
How hot is it going to be in the next few days? The best way to navigate weather on your smart phone, by your location, is using the mobile BOM pathway http://m.bom.gov.au/.
MetEye is a great tool that has been constructed by BOM meteorologists to give a better representation of local weather as a 7-day forecast across Australia on a 3-6 km map grid. Forecasts are updated twice per day during the early morning and late afternoon. Multi-week to seasonal forecast tools (including temperature, rainfall or extreme temperatures) can now also be trialled through http://poama.bom.gov.au.
Want the seasonal outlook translated in three minutes? The BOM releases three-month climate and water outlook videos on YouTube and social media. The November 2015 to January 2016 outlook was released on 29 October 2015. Due to the El Niño, the next outlook will be released early on 19 November 2015.
The latest information on El Niño is updated fortnightly on the BOM's ENSO Tracker page. With an El Niño system, clearer skies can often mean an increased frost risk season. The BOM is trialling Frost Potential maps specifically for agriculture that show forecast low temperature thresholds for various locations across Australia. The maps are updated each day and show forecasts for the next 48 hours. The BOM also offers a heatwave forecast service. Primarily designed as a health tool to assist people to cope through heatwaves, it also has applications for agricultural planning around heat events.
Seeking wild ferment samples
Are you currently performing wild ferments? Would you like to know which species of yeast and bacteria are present in the fermentations and how these differ between batches or vintages?
If the answer to these questions is "yes", then the AWRI would like to hear from you. Planning is underway for a large research project that will investigate the regional differences in microbial species that participate in wild fermentations around Australia. The project will use a new analytical technique called metagenomics that provides the identities and proportions of yeast and bacterial species present at specific points during fermentation.
To accomplish the project's aims, your help is needed in providing samples from wild fermentations of Chardonnay, Shiraz or Pinot Noir, ideally all processed at the same location for a particular winery.
Ferments will need to be sampled at four points during fermentation (based on sugar consumption). All the equipment necessary for the sampling will be supplied by the AWRI. You would only need to contribute your time to take the samples and to store them at 4°C until you're ready to post them to us. The metagenomic analysis will be performed at no cost to you and results for your samples will be provided once the analysis is complete. Winery anonymity will be maintained, with results to be published identified only by region, variety and general winemaking practices.
If you are planning on performing wild fermentations in 2015/2016 and beyond, and are interested in taking part in this study, please contact Dr. Anthony Borneman on 08 8313 6600 or anthony.borneman@awri.com.au.
Vineyard scale control options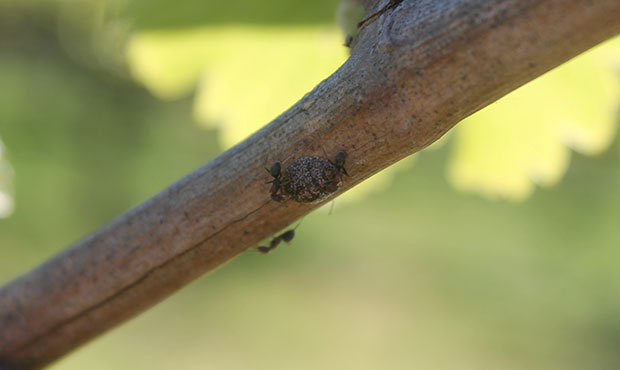 The AWRI helpdesk has recently noted an increase in queries about scale insects in vineyards and the options available for controlling these pests. The 2015/16 'Dog book' recommends paraffinic oil or petroleum oil sprays applied at dormancy for grapevine scale. The effectiveness of this treatment relies on good coverage as the oil kills the scale via suffocation. During the growing season, the registered options have until recently been limited to a number of organophosphate insecticides: azinphos-methyl, chlorpyrifos, maldison and methidathion. These active constituents are broad spectrum and not typically compatible with integrated pest management (IPM) programs because they also affect the natural enemies of scale, including parasitic wasps, lacewings and ladybirds. Growers are advised to contact their winery or grape purchaser before using any of these insecticide sprays. A new active constituent, spirotetramat, that targets sap-sucking insects, has now been registered for the suppression of grapevine scale in vineyards.
Unlike the organophosphate products, spirotetramat is claimed to be compatible with IPM programs. The recommended restriction on use for grapes destined for export wine is "use no later than E-L 18, 14 leaves separated, flower caps still in place, but cap colour fading from green".
For more information about scale pests, consult this list of resources or view the AWRI webinar on scale presented by Jenny Venus in July 2015.
Entwine Australia – the results are in!
One of the important functions of Entwine Australia is to provide Australian grapegrowers and winemakers with data that allows them to identify opportunities to improve their environmental performance. Through the Extension and Outreach project 'Building Resilience and Sustainability in the Grape and Wine Sector' funded by the Australian Government Department of Agriculture and Water Resources, the AWRI has updated the Australian Wine Carbon Calculator and developed a benchmarking 'dashboard' for all members. All Entwine Australia members now have access to their personalised dashboard of data for the 2014/15 season. To access results, members can log in here.
Entwine members are encouraged to compare their data to others in their region or business size category to see how their production performance and greenhouse gas (GHG) emissions compare. In the example below, the dial shows that this grower's diesel use is ranked in the top quartile (75%) of all growers in the region. With this knowledge that there is room for improvement, the grower can look at some of the other benchmarking dials to assist with the identification of opportunities for improvement. Yield and water use are average for the region, which suggests that the high diesel use is not associated with the diesel pump being used for irrigation and that the grower should review other sources of diesel consumption. By reviewing their spray and soil management practices against what is considered best practice for the region, this grower can potentially make changes and improve their ranking in the region with associated significant cost savings on diesel and lower GHG emissions.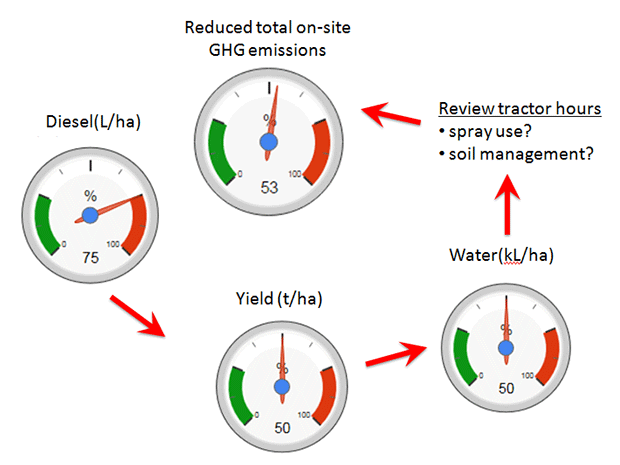 Example of how to use information from the Entwine benchmarking 'dashboard' to achieve cost savings, reduced GHG emissions and continuous improvement.
The AWRI Extension and Outreach team will be presenting the results of the Entwine benchmarking data in a series of workshops around Australia in the coming months. Workshops will be publicised through regional associations, email notifications, the AWRI website, the Australian Grape and Wine Events Calendar and Twitter.
For assistance with the interpretation of benchmarking data, please download this user manual. For more information about Entwine, watch the recent Entwine webinar or contact the AWRI helpdesk on 08 8313 6600 or helpdesk@awri.com.au.
Are you on the AWAC mailing list?

The AWRI's Advanced Wine Assessment Course is an intensive wine tasting course, held over four days and including more than 320 wines. In each course guest judges share their advice and experiences of tasting under wine show conditions. The course program challenges and develops the ability of participants to assess wine reliably and helps to develop a common wine vocabulary. Many participants undertake the course as a step to becoming a wine show judge, while others value the ability to benchmark their wine assessment ability and improve their skills. Places in the course are determined by ballot. To take part in the next ballot, join the AWAC mailing list by completing this online form.
One-day wine show judging course returns in November
The AWRI's newest one-day course Wine show judging – an insider's view of panel tastings will be held for the second time on 20 November. This course gives small groups of participants the opportunity to taste under wine show conditions with guidance from three experienced wine show chairs. Places in this course are limited to 15 participants and can be reserved online. For more information on the AWRI's tasting courses, please contact the events team on 08 8313 6600 or events@awri.com.au.
AWITC & TE update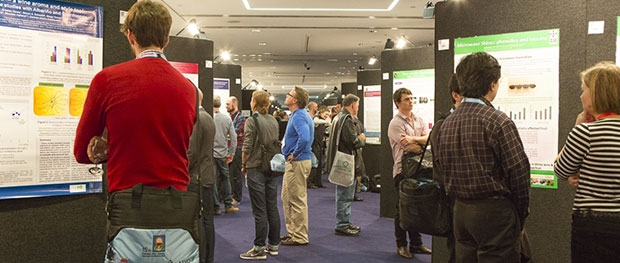 With less than nine months to go until the 16th Australian Wine Industry Technical Conference and Trade Exhibition, activity is ramping up for the planning committee and staff. The preliminary conference program is now available and the majority of speaker invitations have been sent out. Keep an eye on the AWITC twitter account for announcements about speakers and topics.
Submit your poster abstract now for a chance to win a prize or be selected to present your research in one of the 'Fresh science' conference sessions. The technical poster display is a key component of every AWITC, giving researchers a chance to present their latest results and interact directly with delegates.
In case you missed the news when it was announced, WFA's Outlook Conference and McWilliam's Maurice O'Shea Award Dinner will be held in Adelaide in conjunction with the 16th AWITC. Outlook's comprehensive business and marketing content will be presented in sessions on Monday 25 July with the Award Dinner that evening. The Award Dinner will take the place of the traditional conference dinner and will provide a fantastic opportunity to network and celebrate the latest winner of industry's most prestigious award.
Sales of space at the Trade Exhibition are progressing well – further details are available on the AWITE website.
To keep in touch with all things AWITC & TE, make sure your email address is on the AWITC mailing list.
Order the latest AWRI staff publications online
Accessing the latest AWRI publications is easy. Visit the AWRI Publications web page to:
View the 10 most recent AWRI staff publications and order the articles online from the AWRI Library
Search the staff publications database
Read the full-text of 'Technical Notes' from Technical Review (PDF format)
Read the full-text of 'AWRI reports' published in Wine & Viticulture Journal (PDF format).
A full list of AWRI publications published since the last eNews is included below:
1737 Smith, P. Assessment of relationships between grape chemical composition and grape allocation grade for Cabernet Sauvignon, Shiraz and Chardonnay. Aust. N.Z. Grapegrower Winemaker (620): 30-32; 2015.
1738 Hill, M., Cowey, G. The adoption of innovations by Australian grapegrowers and winemakers. Aust. N.Z. Grapegrower Winemaker (620): 70-72; 2015.
1739 Nordestgaard, S. The history of wine presses: Part 2: Continuous presses… and what next? Aust. N.Z. Grapegrower Winemaker (620): 73, 75-76, 78-79; 2015.
1740 Cowey, G. DIY haze and deposit identification. Aust. N.Z. Grapegrower Winemaker (620): p. 87; 2015.
1741 Francis, I.L., Williamson, P.O. Application of consumer sensory science in wine research. Aust. J. Grape Wine Res. doi: 10.1111/ajgw.12169; 2015.
1742 Stockley, C.S., Johnson, D.L. Adverse food reactions from consuming wine. Aust. J. Grape Wine Res. doi: 10.1111/ajgw.12171; 2015.
1743 Longbottom, M. ASVO Mildura seminar – was it the best yet? Wine Vitic. J. 30 (5): p. 15; 2015.
1744 Reschke, S., Tran, T., Bekker, M., Wilkes, E., Johnson, D. Using copper more effectively in winemaking. Wine Vitic. J. 30 (5): 35-37, 39; 2015.
1745 Powell, K., Krstic, M. Rootstock tolerance and resistance to different genetic strains of phylloxera. Wine Vitic. J. 30 (5): 48-51; 2015.
1746 Dry, P. Lagrein. Wine Vitic. J. 30 (5): p. 61; 2015.
1747 Giaccio, J., Curtin, C.D., Sefton, M.A., Taylor, D.K. Relationship between Menthiafolic acid and wine lactone in wine. J. Agric. Food Chem. 63 (37): 8241–8246; 2015.
1748 Bachhuka, A., Christo, S.J., Cavallaro, A., Diener, K.R., Mierczynska, A., Smith, L.E., Marian, R., Manavis, J., Hayball, J.D., Vasilev, K. Hybrid core/shell microparticles and their use for understanding biological processes. J. Colloid Interface Sci. 457: 9-17; 2015.
1749 Clark, A.C., Wilkes, E.N., Scollary, G.R. Chemistry of copper in white wine: a review. Aust. J. Grape Wine Res. 21 (3): 339-350; 2015.
1750 Sternes, P.R., Moyle, R.L. Deep sequencing reveals divergent expression patterns within the small RNA transcriptomes of cultured and vegetative tissues of sugarcane. Plant Mol. Biol Rep. 33 (4): 931-951; 2015.
1751 Moyle, R.L., Sternes, P.R., Birch, R.G. Incorporating target sequences of developmentally regulated small RNAs into transgenes to enhance tissue specificity of expression in plants. Plant Mol. Biol Rep. 33 (3): 505-511; 2015.
1752 Stockley, C.S. The relationship between alcohol, wine and cardiovascular diseases – A review. Nutr. Aging doi: 10.3233/NUA-150052; 2015.
Acknowledgement
The AWRI acknowledges support from Australia's grapegrowers and winemakers through their investment body, Wine Australia, with matching funds from the Australian Government. The AWRI is a member of the Wine Innovation Cluster in Adelaide, South Australia.