AWRI helpdesk project
Project summary
This project provides helpdesk support for technical problems encountered by Australian grapegrowers and winemakers. Support includes identifying the root causes of problems, and providing research-based, practical, up-to-date remediation solutions, as well as future prevention strategies. This service also ensures that Australian grapegrowers and winemakers are competitive on the world stage, by having the latest technical information readily to hand. Investigative services, including analysis of problem grapes or wine, are conducted when a problem cannot be solved through discussions with the producer.
Latest information
Helpdesk enquiries
During 2018/2019 1,959 enquiries were received (Table 2). This is approximately 200 more queries than the past few years but similar to numbers received in other hot seasons with bushfire events. Increases were seen across both wine and viticulture topics (Figure 2). The majority of the enquiries were from grape and wine companies and suppliers actively aligned with the wine industry, with a small number coming from government organisations, students, legal practitioners and journalists. Figure 3 shows that the sources of enquiries were in line with the proportional volume of wine-grape plantings for each state/territory.

| | |
| --- | --- |
| | |
Helpdesk enquiries are classified using 22 different keywords. The number of each query type is compared to historical monthly levels that have been collected over more than 20 years, to help identify national, state and regional trends. This allows for prompt responses to emerging issues and timely provision of relevant information. Figure 4 shows the queries arranged from most to least used keyword, highlighting key events or issues that occurred across 2018/2019.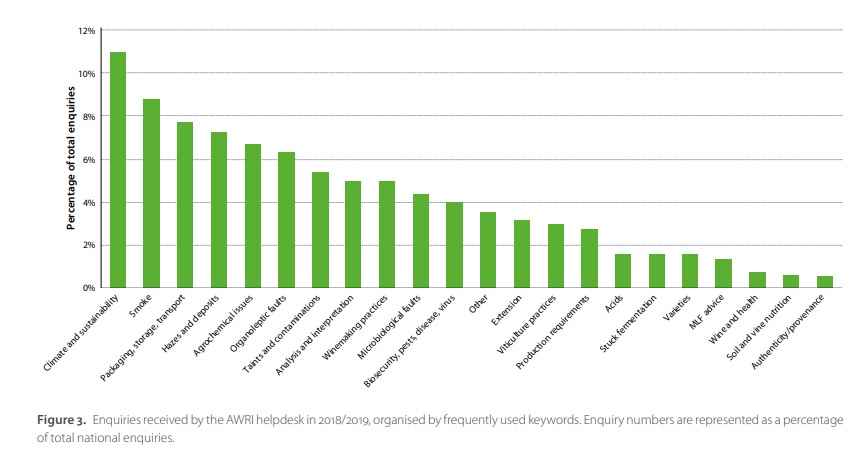 Viticultural enquiries
During the year, the viticulture team responded to 536 viticulture-related enquiries, with the largest proportion on climate and sustainability. Many of the sustainability enquiries related to the transition to Sustainable Winegrowing Australia, in the lead-up to its launch on 1 July 2019. Climate queries covered the challenging weather encountered during the growing season and vintage. Other key issues included concerns about increased prevalence of grapevine virus A and leafroll virus in some regions and requests for help identifying possible brown marmorated stink bug (BMSB) insects. Restrictions on residues of iprodione were another priority for growers.
Winemaking enquiries
The largest number of winemaking queries received this season were on smoke taint, with bushfires occurring across six states. The helpdesk worked with regional associations to coordinate smoke taint Q&A events and implemented centralised sample submission for smoke taint analysis. The helpdesk team interpreted approximately 300 smoke taint analysis results. A review was held with key producers at the end of the season to identify any improvements that could be made to the AWRI's analysis and support during smoke taint events.
Other key topics for winemaking enquiries included hydraulic oil contaminations, unexpected alcohol levels, water additions to high sugar musts and the implications of fumigation and heat treatments on shipments of imported oak barrels and glass bottles as part of biosecurity efforts to prevent an incursion of BMSB.
Winemaking problem-solving investigations
Approximately 16% of winemaking enquiries resulted in investigations, with samples requested and analysis performed to identify the problem and recommend a solution. The helpdesk team conducted 222 problem-solving investigations on 975 samples (Table 3), consistent with previous years. As for enquiries, use of the problem-solving investigative service was in line with the proportional volume of wine-grape plantings for each state/territory (Figure 4).
| | |
| --- | --- |
| | |
Winemaking investigations are assigned to five main categories: hazes and deposits, sensory investigations, microbiological issues, taints and contaminations and other. The proportion of investigations in each category has remained relatively consistent over the last ten years, with approximately 20% in each category (Figure 5). Closures is an additional category where investigations were common in the past; however, investigations in this category are now rare because of the widespread uptake in Australia of non-cork-based closures.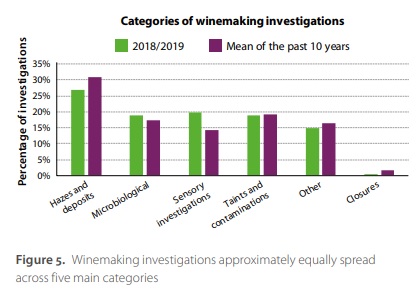 Hazes and deposits
One-third of the hazes and deposits identified in 2018/2019 were crystalline, with half of these being identified as calcium tartrate or calcium DL tartrate. These deposits generally only form in wines with elevated calcium concentrations, historically only in cooler climates; however, several warm inland regions were found to have elevated calcium levels in their wines this year. Additionally, calcium DL tartrates only form if racemic DL tartaric acid or potassium hydrogen tartrate have been used in wine processing. These products are generally cheaper than the natural L isomers, and are legally allowed additives, but increase the risk of calcium instabilities.
Microbiological issues
Half of the microbiological investigations conducted in 2018/2019 concerned Brettanomyces spoilage or 'mousy' off-flavour. The prevalence of 'mousy' off-flavour issues reported to the helpdesk continues to increase across both white and red wines. A new method for analysis of 'mousy' compounds developed this year has allowed analysis to be used to aid in diagnosis rather than having to rely on tasters who are sensitive to the character.
Six wine companies are facing ongoing issues relating to growth of black 'mould' on the exterior of outdoor wine tanks and walls. The 'mould' does not appear to be the same across different companies. Three types of 'mould' were identified: Exophiala, Cladosporium and lichen. None of the moulds were the same as the black mould Baudoinia compniacensis reported in literature as having been found in distilleries, which has made development of a standard treatment recommendation difficult. A project investigating the growth of black 'mould' on winery tanks will commence in 2019/2020.
Sensory investigations
Sensory issues investigated by the helpdesk are often related to oxidation or sulfide development. Examples included premature oxidation of packaged wine, greater sulfur dioxide loss than expected in-bottle due to microbiological growth in 'minimal filtration' wines, filtration failures, and poor bottling line gas management. Sulfide faults were also prominent this year, resulting in increased investigations under the 'sensory' category (Figure 6). Several producers successfully treated sulfide faults using copper followed by fining with polyvinylimidazole-polyvinylpyrrolidone (PVI/PVP) to remove excess copper and copper-sulfide complexes.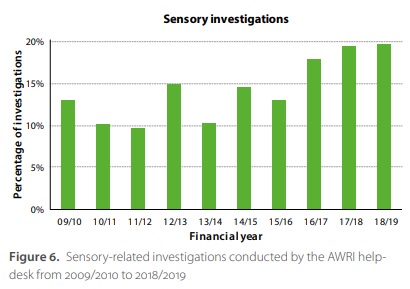 Taints and contaminations
Around one-fifth of investigations of taints and contaminations this year involved analysing grapes, musts and wines for evidence of hydraulic oil contamination. A further segment included investigations examining the sensory relationships between smoke-affected fruit and wine made from the fruit, given the lack of sensory threshold information correlating smoke taint marker compounds and perception of smoke taint by tasters. There were also a large number of unbottled wines with 'musty' taints. These were found to be evenly split between trichloroanisole (TCA) and tribromoanisole (TBA).
Project Contacts
Con Simos
Geoff Cowey
Find out more