Robot brings MLF research into 'high-throughput' era
'Moo-ving' forward with grape marc
Wine show judging – an insider's view
New pest and disease app on the way
Call for AWITC workshop convenors
AWITC and Outlook conferences to join forces
Order the latest AWRI staff publications online
Robot brings MLF research into 'high-throughput' era
Malolactic fermentation research at the AWRI has entered the 'high-throughput' era with the aid of a new robotic liquid handling system. Using miniaturised wine fermentations in 96-well microplates, the robotic system (Tecan Evo 150) is automating the screening of large numbers of malolactic bacteria strains. The bacteria, sourced from the AWRI's wine microorganism culture collection and elsewhere, are being screened for MLF efficiency and response to wine stress factors such as alcohol and low pH.
The robot can prepare and inoculate multiple combinations of bacteria strains and stress factors in red or white test wine, and then analyse malic acid in thousands of samples over the course of the fermentation. For example, in one batch, 40 bacteria strains can be screened for MLF efficiency and response to alcohol and pH stress in red wine, with over 6,000 individual L-malic acid analyses performed.
This high-throughput approach provides a quantum leap in screening capabilities compared to conventional MLF testing methods, and can be applied to a range of other research applications. Additionally, the phenotypic data obtained from this research is being further analysed with genomic information, which will identify potential genetic markers for the stress tolerances of malolactic strains.
Entwine moves to the AWRI
Entwine Australia, the Australian wine industry's national environmental assurance program, is on the move. It was announced last week that the management of Entwine Australia is transferring from the Winemakers' Federation of Australia (WFA) to the AWRI. The program will fit in well with a suite of other AWRI environmental and viticultural projects, including the contract for national biosecurity arrangements recently awarded to the AWRI by Wine Grape Growers Australia.
The Entwine Australia program provides Australian winemakers and wine-grape growers with formal recognition of their environmental practices according to recognised international standards. To qualify for membership, companies must be certified against an approved, independently audited environmental management system and report annually against a set of defined resource use indicators.
Existing Entwine members should experience a seamless transition, with membership renewals now due between 1 August and 30 September.
For more information about the Entwine changes, please contact Damien Griffante at WFA (entwine@wfa.org.au or 08 8133 4306) or Mardi Longbottom at the AWRI (mardi.longbottom@awri.com.au or 08 8313 6600).
'Moo-ving' forward with grape marc
AWRI researchers and a 'sensory panel' of beef cattle are investigating the methane reducing potential of grape marc as a livestock feed additive. Following a successful pilot-scale trial, the next step is a 100-day grape marc feeding experiment. In the trial thirty-six Angus beef cattle will munch their way through 30 tonnes of grape marc. Two different types of grape marc (steam distilled and steam distilled crimped) and a control feed additive will be added to the cattle's diet at a 10% inclusion rate. The trial will compare the different additives in terms of methane production, feed cost, feed refusal, feed use efficiency and live-weight gain.
The full-scale feeding trial is being run in collaboration with the University of New England (UNE) and Tarac Technologies. To preserve the grape marc throughout the trial it is being stored in grain bags (see photo) filled using specialist equipment.
The feeding trial is currently in its three-week induction and adaptation phase, allowing cattle to acclimatise to the feed, the environment and the methane capturing technology. Following adaptation, a 70-day growth and intake study will commence, with results expected by late October.
For more information, check out this video highlighting some of the AWRI's research on the potential of grape marc, or contact Kieran Hirlam, Project Technician Commercial Services at kieran.hirlam@awri.com.au or 8313 0360.
Wine show judging – an insider's view
On 31 July the AWRI will present a brand new one-day course that will provide an insider's view of judging on the national wine show circuit. Three highly respected current or former national wine show chairs (Sam Connew, David Bicknell and PJ Charteris) will take course participants onto their 'panels' as associate judges. Over the day each panel will taste six brackets of wine selected from a recent national wine show. Participants will taste through the wines and then work with the panel chair to discuss each one and reach a consensus panel score – just as a panel would in a wine show.
Each associate judge will judge two brackets with each of the three guest judges, experiencing their different judging styles and tips. The course program will include one bracket of sparkling wine, two brackets of white wines and three brackets of red wines.
Limited to just 15 places, this is a unique opportunity for participants to hone their wine judging skills under national wine show conditions, with guidance from some of Australia's top wine show judges. Register now to secure a place, or contact the AWRI events team via events@awri.com.au or 08 8313 6600 for more information.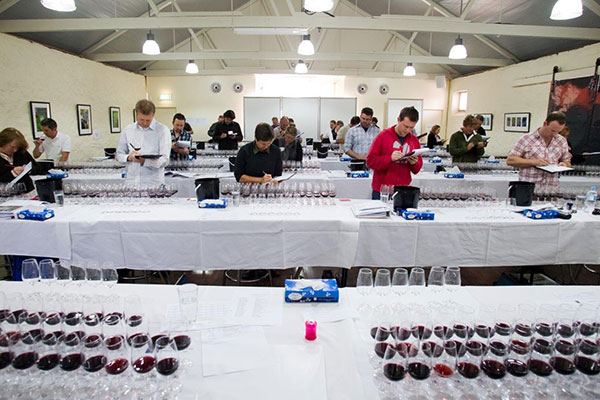 New pest and disease app on the way
The AWRI is collaborating with the Department of Agriculture and Food in Western Australia to help develop a new pest and disease app for grapevines. This app is based on the successful MyPestGuide for the grains industry and will be available to growers across all Australian wine regions. It aims to assist growers with the identification of exotic and endemic pests and diseases, based on photos and descriptions of the pests and the damage they cause.
Grapegrowers will also be able to submit queries, including photos, for assistance with identification. The app will help provide an early warning of a pest or disease epidemic or the incursion of a pest or disease that is new to a region. Once a pest or disease has been identified, a link to the AWRI 'Dog Book' will provide information on control options and withholding periods for agrochemicals. The target launch date for the app is December 2015 and it will be available for both Apple and Android devices. For more information, please contact Paul Petrie on paul.petrie@awri.com.au.
Latest 'Dog book' available
TThe 2015/16 version of the AWRI's booklet Agrochemicals registered for use in Australian viticulture, commonly known as the 'Dog book', is now available. The booklet will be distributed by mail to Australian levy payers and will also be included as an insert in the July edition of Australian & New Zealand Grapegrower & Winemaker.
The information in the 'Dog book' can be accessed in a number of different ways: the printed booklet, a pdf version of the booklet, the agrochemical online search webpage or the agrochemicals app available from iTunes or Google Play. While the printed version is updated yearly, the pdf, search page and apps are updated as changes occur. For more information about agrochemicals, visit the agrochemicals page on the AWRI website, check out the frequently asked questions on agrochemical recommendations or contact the AWRI helpdesk on 08 8313 6600 or helpdesk@awri.com.au.
Payroll tax exemption
The AWRI has recently been granted an exemption from payroll tax by the Government of South Australia. The exemption recognises the AWRI's position as a non-profit research organisation working for the benefit of the grape and wine industry. It will allow the AWRI to deliver more research, development and extension activities for the same level of industry investment, providing growers and winemakers with a greater return on their research levies.
Regional workshops kick off
McLaren Vale hosted one of the first regional extension and outreach (E&O) workshops late last month. These workshops, supported by funding from the Australian government, discuss opportunities for vineyards and wineries to mitigate greenhouse gas (GHG) emissions. In addition to an update on the Emissions Reduction Fund, the AWRI team presented the results of a recently completed project measuring N2O emissions from Australian vineyards, including McLaren Vale.
Kieran Hirlam and Josh Hixson from the AWRI also presented results from their work investigating the use of grape marc to reduce methane emissions from dairy cows. The new online version of the Australian Wine Carbon Calculator, developed through the E&O project and launched on 1 July, was also showcased. The calculator gives growers and wineries the opportunity to understand and model how to reduce their GHG emissions and, using the benchmarking function, measure their performance against others in their region. This workshop is the beginning of a series of 29 workshops being staged across Australia in the next 12 months. Watch out for a workshop in your region via the Australian Grape and Wine Events Calendar. For more information about the E&O project, visit https://www.awri.com.au/industry_support/new_climate/ or contact the AWRI helpdesk on helpdesk@awri.com.au or 08 8313 6600.
Questions and answers
The helpdesk team has been busy putting together new content for the AWRI website based on technical questions that are commonly asked. Four new pages of questions and answers have been developed, covering the following topics:
If you have more questions that need answering, contact the helpdesk on helpdesk@awri.com.au or 08 8313 6600.
Call for AWITC workshop convenors
The 16th Australian Wine Industry Technical Conference and Trade Exhibition returns to Adelaide in July 2016 – just over a year from now. The AWITC is seeking workshop convenors to coordinate grape and wine technical or business workshops at next year's event. If you have engaging, novel, interactive content to share, please get in touch! Support will be provided to make convening as simple as possible – if you can coordinate content and presenters, the AWITC workshop team can do the rest.
To express your interest, please complete this online form. For further information, please contact the workshop coordinators (Con Simos and Francesca Blefari) on workshops@awitc.com.au or 08 8313 6600. Expressions of interest will close on 31 August 2015.
AWITC and Outlook conferences to join forces
For the first time, the Australian wine industry's premier technical and business conferences will be held together, in Adelaide in July 2016. The AWITC Inc. and the Winemakers' Federation of Australia this week announced an alliance between the 16th Australian Wine Industry Technical Conference and the Outlook conference. This alliance will bring together comprehensive industry policy, business and marketing content with the latest technical breakthroughs in grapegrowing and winemaking. Both conferences will be complemented by the Australian Wine Industry Trade Exhibition (AWITE) – Australia's premier showcase of wine technology, equipment and services. For more information, please contact Kate Beames, Conference Manager, on kate.beames@awitc.com.au or 08 8313 6600.
What's new in eBooks?
Eight new eBooks have recently been added to the AWRI's collection with topics including native Italian grape varieties, wine laboratory practices, winemaking problem solving, tasting and food and wine pairing. To keep in touch and read the latest additions to the collection, visit the new eBook titles page on the AWRI website.
Staff and Board achievements
AWRI scientists Dr Tina Tran and Dr Marlize Bekker have been named as finalists in the 2015 South Australian Science Excellence Awards. Winners will be announced at a gala dinner in August.
AWRI Board member, Prof. Brian Schmidt, was recently announced as the next Vice-Chancellor of the Australian National University in Canberra. Brian will take up the position in January 2016.
Order the latest AWRI staff publications online
Accessing the latest AWRI publications is easy. Visit the AWRI Publications web page to:
View the 10 most recent AWRI staff publications and order the articles online from the AWRI Library
Search the staff publications database
Read the full-text of 'Technical Notes' from Technical Review (PDF format)
Read the full-text of 'AWRI reports' published in Wine & Viticulture Journal (PDF format).
A full list of AWRI publications published since the last eNews is included below:
1708 Van Sluyter, S.C., McRae, J.M., Falconer, R.J. Falconer, Smith, P.A., Bacic, A., Waters, E.J., Marangon, M. Wine protein haze: mechanisms of formation and advances in prevention. J. Agric. Food Chem. 63 (16): 4020-4030; 2015.
1709 Smith, P., Bindon, K., McRae, J., Kassara, S., Johnson, D. Tannin: impacts and opportunities along the value chain. Wines Vines 96 (1A): 17-18, 20-21; 2015.
1710 Zhang, P., Barlow, S., Krstic, M., Herderich, M.J., Fuentes, S., Howell, K. Within-vineyard, within-vine and within-bunch variability of rotundone concentration in berries of Vitis vinifera L. cv. Shiraz. J. Agric. Food Chem. 63 (17): 4276-4283; 2015.
1711 Contreras, A., Hidalgo, C., Schmidt, S., Henschke, P.A., Curtin, C., Varela, C. The application of non-Saccharomyces yeast in fermentations with limited aeration as a strategy for the production of wine with reduced alcohol content. Int. J. Food Microbiol. 205: 7-15; 2015.
1712 Borneman, A.R., Pretorius, I.S. Genomic insights into the Saccharomyces sensu stricto complex. Genetics 199 (2): 281-291; 2015.
1713 Kidman, C.M., Olarte Mantilla, S., Dry, P.R., McCarthy, M.G., Collins, C. Ramsey and 110 Richter rootstocks perform well under water stress conditions in South Australia's Barossa Valley. Wine Vitic. J. 30 (1): 43-45; 2015.
1714 Yui, E.M., Tai, G., Peverill, R.E., Lee, K.J., Croft, K.D., Mori, T.A., Scheiber-Mojdehkar, B., Sturm, B., Praschberger, M., Vogel, A.P., Rance, G., Stephenson, S.E.M., Sarsero, J.P., Stockley, C., Lee, C-Y.J., Churchyard, A., Evans-Galea, M.V., Ryan, M.M., Lockhart, P.J., Corben, L.A., Delataycki, M.B. An open-label trial in Friedreich ataxia suggests clinical benefit with high-dose resveratrol, without effect on frataxin levels. J. Neurol. 262 (5): 1344-1353; 2015.
1715 Pardo-Garcia, A.I., Wilkinson, K.L., Culbert, J.A., Lloyd, N.D.R., Alonso, G.L., Salinas, M.R. Accumulation of Glycoconjugates of 3-Methyl-4-hydroxyoctanoic acid in fruit, leaves and shoots of Vitis vinifera cv. Monastrell following foliar applications of oak extract or oak lactone. J. Agric. Food Chem. 63 (18): 4533-4538; 2015.
1716 Petrie, P. Ask the AWRI: Unmanned aerial vehicles (drones) and viticulture. Aust. N.Z. Grapegrower Winemaker (616): p. 47; 2015.
1717 Pretorius, I.S., Curtin, C.D., Chambers, P.J. Designing wine yeast for the future. Holzapfel, W. (Ed.) Advances in fermented foods and beverages: Improving quality, technologies and health benefits. Cambridge, U.K.: Woodhead Publishing. 197-226; 2015.
1718 Hayasaka, Y. Analysis of phthalates in wine using liquid chromatography tandem mass spectrometry combined with a hold-back column: Chromatographic strategy to avoid the influence of pre-existingphthalate contamination in a liquid chromatography system. J. Chromatogr. A 1372:120-127; 2014.
1719 Dry, P. Teroldego. Wine Vitic. J. 30 (3): p. 61; 2015.
1720 Borneman, A., Bartowsky, E., Costello, P., Sternes, P., Chambers, P., Herderich, M., Johnson, D. Unravelling the capricious nature of Oenococcus oeni. Wine Vitic. J. 30 (3): 34, 36-37; 2015.
1721 Longbottom, M. Mildura Seminar just around the corner while Adelaide seminar planning under way to indentify this year's 'hot topic'. Wine Vitic. J. 30 (3): p. 10; 2015.
1722 Holdstock, M. Ask the AWRI: Trouble-free packaging. Aust. N.Z. Grapegrower Winemaker (617): p. 92; 2015.
1723 Nordestgaard, S. Developments in destemming and sorting technology. Part one: In the winery. Aust. N.Z. Grapegrower Winemaker (617): 96-102; 2015.
1724 Bellon, J.R., Yang, F., Day, M.P., Inglis, D.L., Chambers, P.J. Designing and creating Saccharomyces interspecific hybrids for improved, industry relevant, phenotypes. Applied Microbiology and Biotechnology DOI 10.1007/s00253-015-6737-4: 13 p.; 2015.
Acknowledgement
The AWRI acknowledges funding from Australia's grapegrowers and winemakers through their investment body, the Australian Grape and Wine Authority, with matching funds from the Australian Government. The AWRI is a member of the Wine Innovation Cluster in Adelaide, South Australia. The AWRI project Using grape marc as a feed additive in commercial settings is supported by funding from the Australian Government.